Blog
The guide to pagers for hospitals
With their unmatched reliability, convenient size, and low cost, pagers for hospitals have been a messaging staple for decades. Even as smartphones and other devices have changed the healthcare communication landscape, pagers have remained part of the everyday device mix for many hospitals and health systems, including many of the U.S. News and World Report Best Hospitals Honor Roll (all of which are Spok customers).
Here's a look at the various types of pagers for hospitals to help you understand why pagers are still a top communication tool.
Encrypted pagers
Many people aren't aware that encrypted pagers are an option for roles where a smartphone may not be necessary — but secure communication is. Using the AES-128 encryption algorithm, T5 conventional pagers offer the trusted, HIPAA-compliant communication essential for exchanging patients' protected health information (PHI). Bonus: They are also highly reliable, even in areas where cellular or Wi-Fi coverage isn't great. This is important if your environmental services or transport teams rely on pagers.
Encrypted pagers function seamlessly within the device mix of broad care teams that not only need to communicate PHI among members, but also seek to leverage a single healthcare communication platform to share updates with everyone easily via centralized directory and schedule information. You can explore the differences between standard and encrypted paging to see what would work best for your organization.
Conventional pagers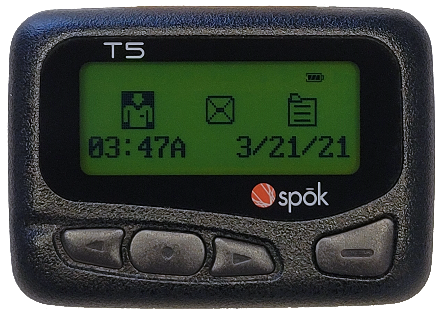 With one-way messaging, you can view four lines of alphanumeric information on devices such as the aforementioned T5 as well as the Unication Alpha Elite™. It's an effective way to receive alerts, text messages, and emails, and the long battery life and easy-to-read screens are especially helpful. One-way messaging also encompasses numeric paging, which is the classic variety where the caller inputs a call-back number, and the recipient finds a nearby phone to respond using the phone number displayed.
Waiting room pagers
Patients, as well as their accompanying family members or friends, often want the flexibility to roam the hospital instead of being stuck in a waiting room for long periods. These pagers for hospitals also alleviate crowding in small waiting rooms, which is key for achieving social distancing during COVID-19. In addition to lessening crowds and giving patients the ability to roam, waiting room pagers also help reduce unwelcome noise.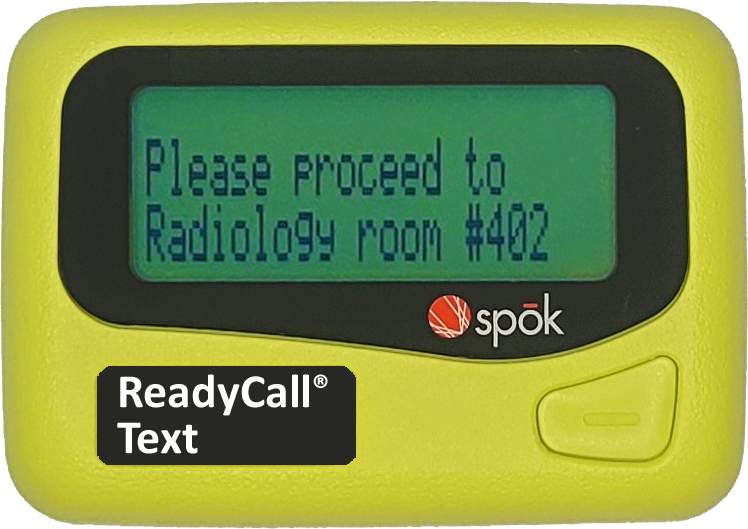 ReadyCall® Text pagers minimize the need for overhead announcements by giving patients a device that can receive important information or instructions. In fact, these pagers can display HIPAA-compliant messages, so it's safe to include personal details when communicating with patients or family members. The antimicrobial casing also provides added protection.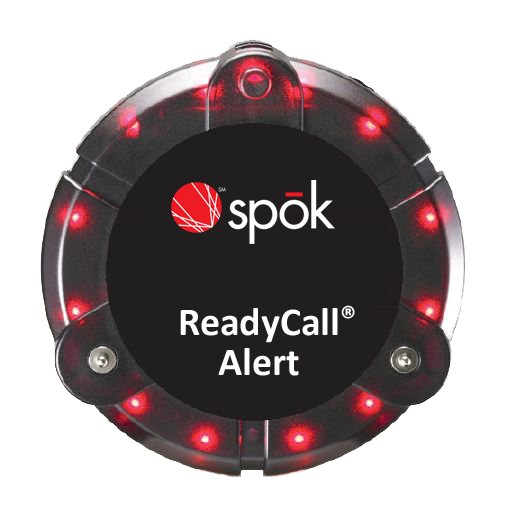 ReadyCall® Alert pagers, also known as coaster pagers, allow patients and visitors to explore the grounds, eat in the cafeteria, or visit the gift shop during their stay, knowing they'll receive an alert when it's time to return to the designated zone.
How pagers for hospitals actually work
Now that you're more familiar with the options, are you curious about how pagers work? It's pretty interesting. Pagers rely on a nationwide network of transmitters, many of which overlap to ensure continuous and redundant coverage. Many hospitals have on-site transmitters for solid coverage within a facility or campus.
The future of paging (Hint: it's bright!)
Although pundits will periodically pronounce paging a dying form of communication, purging the pager is risky. For starters, they're second to none when it comes to maintaining communication during disasters, and they enable hospitals to select the right device for the right role. These seven shocking facts about pagers will make you think twice about kicking these reliable powerhouses to the curb.
Join the Spok blog and stay informed on the latest updates in clinical communications.