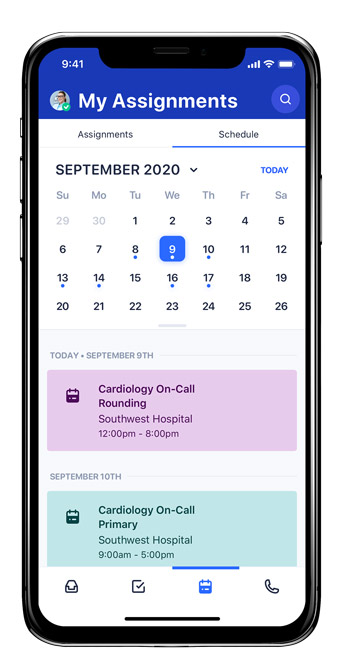 Provide visibility for clinicians on-the-go
Meet providers where they are. Quickly and securely access the most recent on-call schedule details for physicians and other staff from any device, at any time. Deliver a self-service system for accessible and accurate on-call schedule information.
Simplify your on-call schedules with one organization-wide system
Use a single location to update on-call schedules for your entire organization. No more fragmented on-call schedules by department. Last-minute changes happen in real-time, and paper-based schedules are no longer necessary.
Look-up and message to on-call roles from mobile and web
Not sure which provider is on-call? No problem. Send messages to on-call roles to quickly notify the correct on-call provider. No need to dial 0 to find and page the correct person, and no more wasted time.
Leverage on-call schedules for standardized workflows
Streamline patient care with powerful workflow automation and on-call schedules in one platform. Critical messages go to the right person, at the right place, at the right time, on the right device.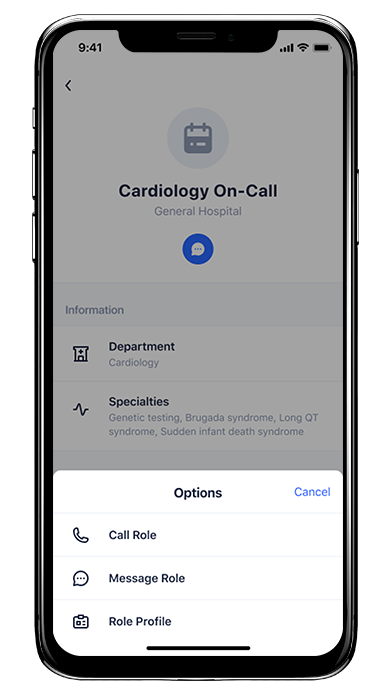 Putting patient care first
Use Spok Go® to deliver clinical workflow automation to enable efficient, safe patient care.
Your platform solution
for clinical communications
Explore Spok Go®:
Spok Go overview
Purpose-built in the cloud for healthcare, Spok Go connects clinical teams with the people and information they need when and where it matters most
Secure messaging
Enable seamless communication with care teams across your health system
Enterprise directory
Rely on one centralized directory as the single source of truth for all roles across your hospital
On-call scheduling
Provide accurate and up-to-date scheduling information at your fingertips
Clinical care
Connect clinical teams with the people and information they need when and where it matters most
Clinical diagnostics
Speed delivery of radiology and laboratory results for improved patient care
Contact center
Improve caller service through best-in-class contact center solutions
Paging
Manage your paging strategy with the nation's largest paging network