Spok professional services
What are Spok professional services?
Our professional services team is designed to work with your hospital or health system to maximize value and zero in on what matters — improving patient care through better communications. Whether Spok is already part of your communication strategy or you're a new customer, our experienced consultants, certified project managers, and training experts are here to help you meet your goals.
Get started with Spok Go®
Your healthcare organization has complex needs, and we know that adopting new technologies can be a challenge. You're looking for a solution that will introduce value to your organization faster. We're committed to helping you plan, implement, and adopt Spok Go. We've got you covered.
During Spok Go implementation, you can expect services such as:
As a part of the implementation toolkit, you will find useful roll-out support, including this video to introduce Spok Go to your end users:
With you every step of the way, all the way
Your organization will have the ability to plan, implement, and adopt Spok Go quickly. Plus, we won't stop there. We'll continue to partner with you to grow adoption, achieve business outcomes, and optimize your Spok solutions.
Our implementation methodology is a continuous cycle. You can trust you'll have unwavering lifetime support for your Spok solutions.
Here's how it works
Prepare business and technical requirements
Plan user training, communication, and onboarding strategies
Setup workflow solutions and business plans guided by best practices
Launch solution to end users
Optimize user adoption and workflows to maximize your solution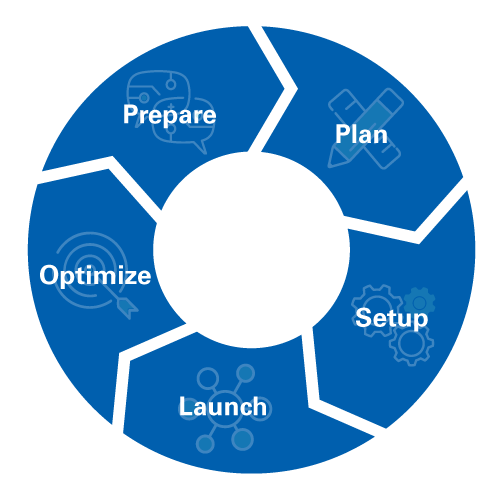 Solve for your specific challenges
Your hospital isn't one-size-fits-all. Your technology implementations shouldn't be either. Spok professional services will create a plan to meet the unique needs of your hospital or health system. From customized implementation strategies to tailored workflow design and diagrams, we develop strategies together to meet your unique needs.
Looking for additional help?
We provide a comprehensive portfolio of consulting services. Your organization might want further support to:
If you're looking for more comprehensive services, you'll find virtual workshop-style packages using Spok Accelerators, or higher-touch services with Spok Service Offers.
Get more information about Spok professional services
Want to learn more about Spok professional services? We can help drive transformational change in your hospital or health system.