Blog
When Technology Can Increase Patient Engagement, and When It Can't
This is the third post in a three-part series on patient engagement. Check out the previous posts:
Though we know it's difficult to increase engagement with patients, can tools or technology play a role in addressing the barriers?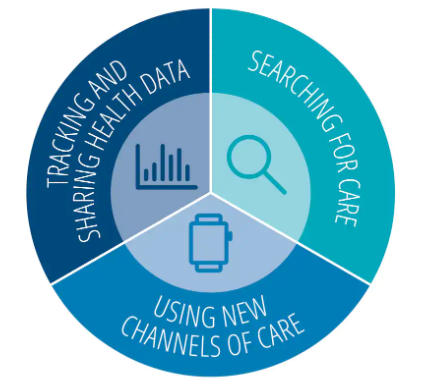 Yes, but there's a lot of work to be done.
Let's organize the work into some natural stages of a patient's interaction with the health system.  A 2018 Deloitte survey of over 4,500 U.S. adults identified three stages of the patient journey when patients are actively interacting with their own healthcare. These touchpoints include:
Searching for care
Accessing new channels of care
Tracking and sharing health information
Tools and technology can impact all three stages of the patient journey.
Searching for care
When searching for care, 53% of the adults surveyed said they were likely to use a tool to look up quality ratings for physicians or hospitals. However, only 23% did in the past year, suggesting an opportunity for tool improvement and/or patient education to enable patients in their search for care
Accessing new channels of care
About a third of patients reported interest in using apps for identifying symptoms and for health coaching.  These apps have been increasing and becoming more sophisticated over the several years.  Common patient interests with these tools are virtual assistant to help identify symptoms, messaging with live health coaches, and even using voice recognition software for recognition of depression and/or anxiety.  According to the research, "These tools have the potential to improve health outcomes through faster diagnosis, 24/7 access to health coaching, and the ability to recognize mood and lifestyle changes that could affect adherence to a treatment plan."
Tracking and sharing health information
Consumer use of technology for health and fitness purposes has increased almost two-and-a-half times since 2013. Sixty percent of survey respondents say they are willing to share their personal health data with their doctor to improve their health.  Although significant technology innovation focus has been in the personal health and wellness space recently, it remains to be seen whether this technology shows the type of results in patient engagement that are needed to improve patient outcomes.
But does an increase in usage assume an increase in engagement?
The Office of the National Coordinator for Health Information Technology (ONC) explored the increased use of patient portals as a factor in patient engagement. In 2017, 52% of patients were offered access to their medical records, an increase from 42% in 2014. Over half of the patients who were offered patient portal access viewed their own medical records, which translates to 28% of the total survey population.  So, there continues to be opportunity to increase patient's usage of these portals in order to engage them with the health system in ways that could potentially improve their outcomes.  But the root cause of continued low portal usage appears to be a variety of factors, including the key three discussed in my previous blog:  literacy, financial, and socioeconomic.
In fact, though more patients have access to their medical records through online portals (an increase that could be attributed to federal mandates to meet meaningful use requirements), portals so far have done very little to decrease the literacy, financial, and socioeconomic factors that are barriers to better patient engagement.
When an increase in technology has little impact on patient engagement
In fact, the proliferation of patient portals across every provider, payer, and hospital has created a portal "soup," which adds to patients' confusion and frustration. It is not uncommon for a consumer to have as many as six or more different portals that house their various healthcare records. In essence, patients are paying the price for the lack of interoperability in our EHRs and other healthcare systems.
For example, a patient with cancer might need to access care from multiple providers in multiple organizations. The various EHRs remain isolated and unsynchronized. She can access some of her records online, but she must log into separate portals for her various providers of care.  Then, after each encounter, she has the burden to send updated information via her various portals to other physicians to update the data in their EHRs to keep her care team aligned.  All of this while battling cancer.  Isn't it time we relieve some of this portal soup burden on patients and resolve the interoperability challenges that cause it?
When an increase in technology could have big impact on patient engagement
EHR usability
Certainly, improving electronic health record (EHR) usability could make a big impact on patient engagement by increasing the time physicians can spend focused on the patient vs. using their computer.  Dozens of studies have specific recommendations on how to do this, including focusing on more rigorous usability testing and safety criteria and scenarios.  EHR vendors and providers are devoting significant resources to usability, even spawning a high-growth industry of EHR optimization consultants.
Patient relationship management
Other tools or technologies that hold unfulfilled promise in improving patient engagement include the relatively new concept of "patient relationship management" (PRM), which includes seven core competencies that outline the collaborative nature of care, according to a study by Chilmark Research (shown in the image to the left).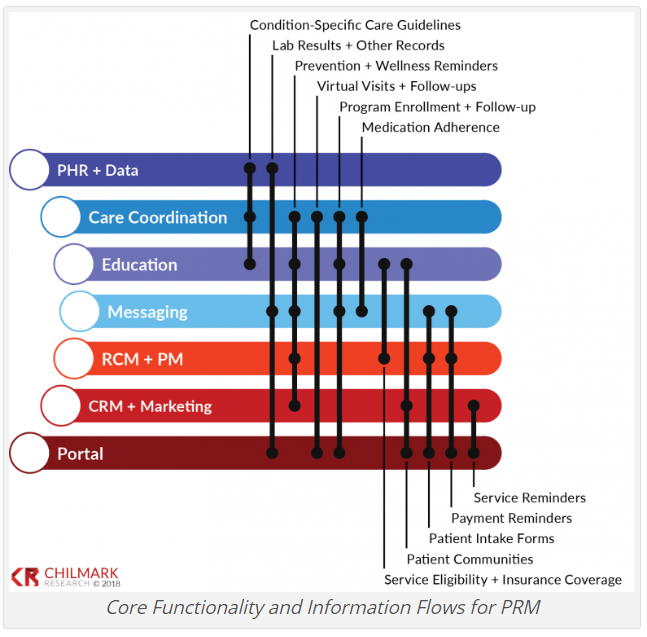 This research theorizes:
"PRM will shift from a task managed solely by provider organizations to a collaborative effort that involves providers, payers, and any third parties working on their behalf."
If that hypothesis is true, there is reason to hope that technology can have a positive impact on patient engagement.  The existing barriers to fully realizing the potential of PRM tools include an inability to meet usability expectations of clinicians and patients, economic barriers, and the necessity for PRM to go beyond hospital walls.
Improving health literacy
Improving health literacy is one area where tools and technology have already started to make a difference.  Organizations like Emmi Solutions and GetWellNetwork provide digital solutions to support and encourage patients to engage in their own health. These solutions entered the market in the early 2000s and have steadily grown since. According to these businesses, their digital solutions have resulted in higher HCAHPS scores, reduced costs, and increased patient scores in pain management.
Healthcare organizations also provide patient education resources to support increased engagement, including the patient channel library from the American College of Physicians.
The future of technology and patient engagement
Clearly, there is work ahead of us to develop user-friendly, economical, and effective technology to enable wide-spread patient engagement. But, the compelling research that ties patient engagement to improved outcomes is motivation to continue this work, as evidenced by the current innovation in technology and tools.
The trajectory of payment reform and healthcare delivery reform is not clear.  However, like it or not, our healthcare system seems poised to continue moving away from fee-for-service (FFS) healthcare and towards value-based care and new reimbursement models. What remains unclear is which particular payment and care delivery models will prove to be most effective and how quickly the trend will evolve.
Regardless of payment or care models, the efforts to increase patient engagement need to continue because our country has a responsibility to improve the health of our citizens. Though the ingrained socioeconomic, financial, and literacy barriers are complex and have proven difficult to tackle, there are enough signs of success in patient engagement programs so far to give us hope for a better healthcare system in the future.