Blog
An update from Spok on our COVID-19 response
A letter from Vince Kelly, CEO of Spok
As we continue to navigate the COVID-19 pandemic, all of us at Spok remain deeply grateful to you and your entire staff for the steps you're taking to help keep our communities safe. As always, we are committed to supporting your mission-critical communications and to help you serve your patients during this difficult time.
When necessary, our field technicians and members of our professional services group are on-site at various hospitals across the country to ensure our customers have what they need to save lives. These essential tasks include ensuring hospitals have their call center equipment 'racked and stacked' onto the network and loaded with the latest and greatest Spok componentry, and their call center operators are trained to handle critical communications whether they are on-site or working from home.

We recently tested and ensured the Boston Convention Center, converted to handle up to 1,000 more COVID-19 patients, had strong wireless signals to confirm caretakers can trust critical communications in the new space.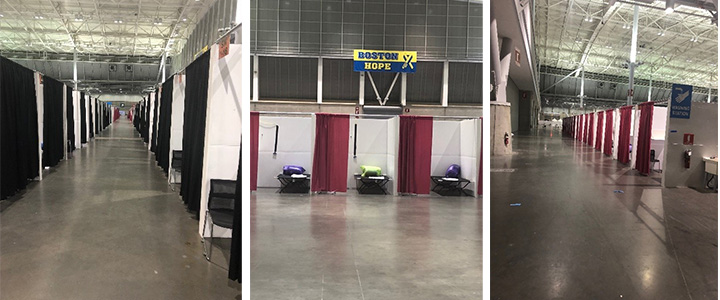 Over the past three weeks, we've helped over 40 health systems add new licenses for some of our solutions, at no additional charge, to help support remote work and hospital-wide communications.
Several Spok employees are also actively working to make masks available to those who need them—one is even using a 3D printer to create masks very similar to N95 masks. It's inspiring to see the work they're doing to make such a lasting impact on our communities.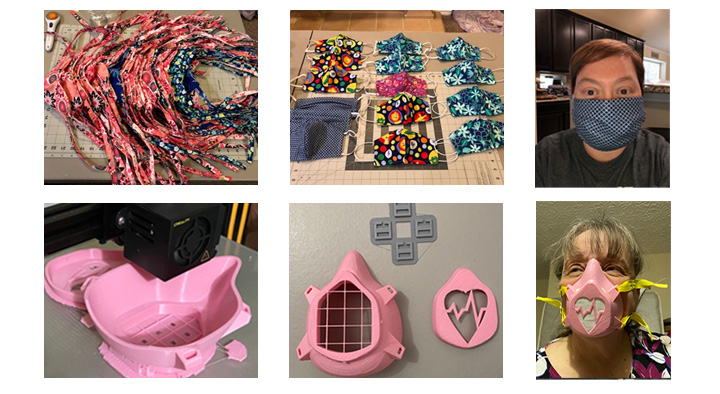 Thank you again for your dedication in caring for our communities, friends, and family members. We are here to help any way that we can. We will continue to update this post as we have new information to share.
March 25, 2020
Since my last update (below), Spok has made further strides to protect the health and safety of our customers, employees, and communities. Here are our latest developments in our ongoing response to COVID-19.
Spok is willing and eager to find ways to support our invaluable healthcare workers during this unprecedented time. One way we're helping our current customers is by providing licenses for some of our solutions at no charge during the COVID-19 crisis. This expansion can make remote work feasible, help support hospital-wide communications, and make it easier to quickly and reliably notify staff during emergency situations.
If you're a current Spok customer who would like to learn about any of these options, please contact us.
For the safety of healthcare workers, patients, and our employees, we've also canceled on-site customer visits and will instead provide remote services to help serve any critical communication needs. We recently extended our work–at–home policy for employees through April 10 and will continue to monitor the situation daily.
In this unparalleled time, we'll continue to do all we can to support the mission of our team and the critical operations of the healthcare organizations we serve. As we have new information to communicate, this post will be updated accordingly.
March 13, 2020
As the Coronavirus Disease (COVID-19) continues to impact communities around the world, I felt it was important to share some details of our response at Spok. Spok solutions support critical operations in more than 2,200 hospitals and health systems, and the mission of our team and technology is unwavering—to be a steadfast partner for hospitals as they respond to COVID-19. To that end, the health and safety of our employees and customers are our top priority.
To help limit the potential impact of COVID-19 on our customers, employees, and company operations, Spok has implemented new precautionary policies for remote work, employee travel, onsite meetings, and developed strategies to support our employees in following smart respiratory hygiene habits.
We're asking staff to telework whenever possible, and we have suspended international travel for our employees and curtailed nonessential business travel in the U.S. Spok also maintains flexible policies that permit employees to stay home in the event they need to care for a sick family member. We've also provided staff with guidelines to follow in line with CDC recommendations to participate in everyday preventive actions.
We're committed to supporting our current customers. We know that many organizations are working to provide their employees remote work capabilities. To assist in the planning and response to COVID-19, we have prepared answers to the most frequently asked questions regarding how Spok solutions can function in a remote teleworker environment. These documents are available in our customer portal, Spok Knowledge.
Rest assured, Spok will continue to monitor the impact of COVID-19 and we'll update our policies and precautions as the situation evolves. We're dedicated to take the necessary measures to keep our employees, customers, and partners safe and healthy. As we have new information to communicate, this post will be updated accordingly.
Join the Spok blog and stay informed on the latest updates in clinical communications.