Blog
How to master rollout of a secure messaging app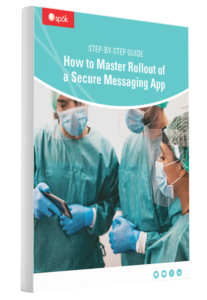 Does your secure messaging initiative support overall hospital goals? Secure messaging should be a tactic within your larger mobility plan, not the foundation of your strategy. From installation planning and implementation to choosing the best time to put the app in the hands of users—there's a lot of factors that contribute to your success.
This step-by-step guide will help you plan the rollout of a secure messaging app from start to finish.
In this eBook, you'll learn how to:
Define the end results and how they will be measured
Ensure adequate mobile signal coverage
Identify tactics to communicate change
Roll out the application across your organization
A three-phase approach to rolling out your secure messaging app
Phase 1: Plan
From identifying end users to establishing a knowledge base, this eBook offers a list of ten tasks to consider before installation of your secure messaging solution begins.
Phase 2: Go live
It's time to implement your secure messaging app! Learn ways to discover unforeseen hurdles, flesh out any remaining plan details, and build excitement among the user community for this new technology.
Phase 3: Monitor and optimize
Are process changes and new technologies, including your new secure messaging app, driving the desired changes? Is there progress toward meaningful improvements? Read steps to take after details and planning are complete and your app is in the hands of users.