Blog
Infographic: The state of healthcare communications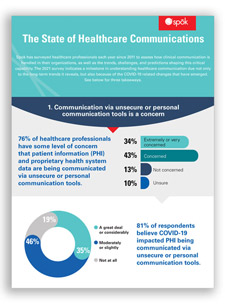 What are the trends, challenges, and predictions for the future of healthcare communications? To find out, we surveyed hundreds of healthcare professionals in July 2021 from hospitals and health systems nationwide and found three major takeaways:
1. Communication via unsecure or personal communication tools is a concern
No one knows yet how the pandemic will change the future of healthcare communications. More than three-fourths of healthcare professionals surveyed reported concern over the security of patient information and health system data. These survey results indicate changes in communication technology may be necessary.
2. Clinician burnout has increased as a result of the COVID-19 pandemic. Improved communication could help address the risk
Healthcare professionals overwhelmingly believe levels of burnout have increased since the start of the pandemic. Yet, survey respondents believe there are several ways to curb burnout through better communication technology.
3. New communication technologies are on the horizon
While healthcare IT communication projects were halted during the COVID-19 pandemic, our survey shows that many healthcare professionals expect to resume implementing these projects in the next six months. These results indicate that healthcare organizations understand the positive impact enhancing healthcare communication technology can have to help address clinician burnout, improve patient satisfaction, and enhance system integrations.
Download the infographic for more information and statistics on the three major takeaways from the 2021 State of Healthcare Communications report.
How can you learn more?
Read more about the survey and get the full report here
Download the entire 2021 State of Healthcare Communications Report
If you'd like to learn more about how Spok can help advance your clinical communication, please talk to us