Blog
Infographic: Burnout in healthcare contact centers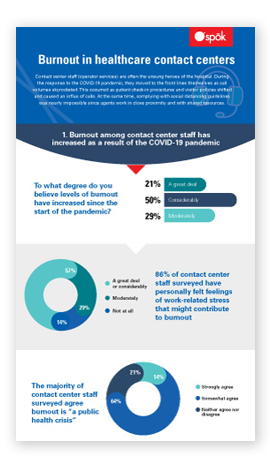 How has the COVID-19 pandemic impacted burnout among contact center staff? To find out, we pulled data from our annual State of Healthcare Communications report and found three major takeaways:
1. Burnout among contact center staff has increased as a result of the COVID-19 pandemic
More than 70% of contact center staff reported that levels of burnout have increased at least considerably as a result of COVID-19. In fact, every contact center staff member surveyed (100%) reported burnout has increased.
2. Technology can play a role in contributing to burnout
Contact center respondents identified clinical tools and technology experiences that contribute to burnout—including poor integration into clinical workflow, burdensome or increased workload, and poor technology implementations. Yet, they also believe improved communication technology could help address the risk.
3. Contact center staff believe improved communication could help address work-related stress
According to the responses to the survey, contact center staff believe improved communication can help address the risk of burnout. Every single contact center staff (100%) believe improving the exchange of data between care members would be helpful in addressing the risk of burnout. Survey results indicate increased efficiency of workflows and improved EHR usability could also have an impact.
Download the infographic for more information and statistics on the impact of COVID-19 on contact centers in healthcare.
How can you learn more?