Blog
How do pagers work? Five reasons hospitals still rely on pagers [plus infographic]
Pagers continue to show their relevancy year-over-year. Our most recent communications strategy survey shows 2019 is no different. At 53%, more than half of nonclinical staff—including housekeepers, transport technicians, dietary staff, etc.—still use pagers as their primary communication device for work, and 75% of hospitals still support the use of pagers. See the full results of our 2019 mobile communications in healthcare survey in our free report.
Yet, pagers have a reputation for being "old technology." Let's consider a different description for the tried-and-true pager. Instead of old, let's try "simple and reliable" with a high value for critical messaging. So, why exactly do healthcare organizations still value pagers? And why does the paging architecture work?
Jump to the paging architecture infographic
Five reasons healthcare organizations value pagers in 2019
1. They support a powerful device diversity approach
Many healthcare systems today integrate pagers into their workflows with other devices they may be using—smartphones, Wi-Fi phones, tablets, smartwatches, etc.
Truly effective care collaboration relies on a communication system that can send the right message, to the right person, at the right time, on the right device. Even as mobile usage increases, paging's survivable architecture and cost-effectiveness make them a valuable component of a device mix. In 2019, 75% of hospitals and health systems supported pagers and smartphones, reflecting the continued need for both devices.
2. Not everyone needs a smartphone to do their job
Smartphones are expensive, regardless of whether an organization supports a 'bring your own device' (BYOD) program or provides fully-covered devices to staff. While some staff may require smartphones, other staff like housekeeping, transport, and certain members of code teams may be able to rely fully on pagers, resulting in real cost savings.
3. Encrypted paging supports HIPAA compliance
Encrypted pagers can provide a secure communication option that is also highly reliable even when cellular and Wi-Fi coverage is spotty. With secure messaging capabilities, display-lock security features, and the ability to remotely wipe data, encrypted pagers are a cost-effective way to ensure communications are reliable and secure. (You can see more benefits of encrypted pagers by reading about our T5 and T52 pagers).
4. Tried and true—and affordable
Pagers are still used so often in critical communications because of their can't-be-matched reliability. They aren't affected by lapses in cellular or Wi-Fi coverage. Plus, it's possible to keep a pager on hand for less than the daily price of a cup of coffee—making it an extremely cost-effective communication device. If someone loses a pager, the replacement cost isn't an issue. But if that smartphone goes missing…
5. Works in disaster situations
While we certainly can't predict when disasters will strike, we can lay the groundwork that will give critical communications the best chance of getting through when almost nothing else can. With their demonstrated reliability in disaster situations and ability to provide secure communications, pagers are often an integral part of a hospital's disaster response plan. Even if the power is out and Wi-Fi and cellular networks are down, AA battery-powered pagers mean it's easy to remain operational and function independently of the power grid without needing to recharge.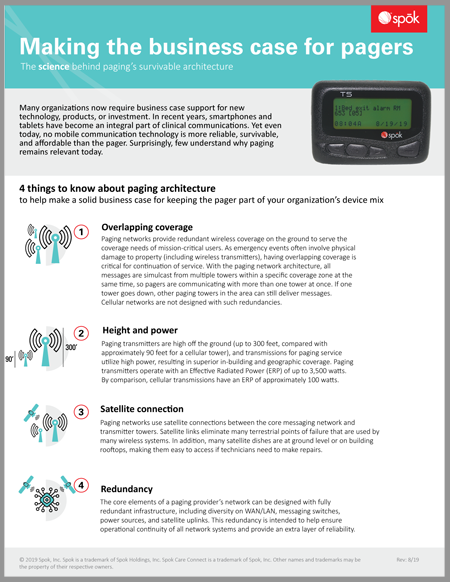 How do pagers work?
In this infographic, you'll learn more about the science behind paging's survivable architecture, why paging technology is particularly reliable in emergency situations, and the core elements of a paging provider's network. It can help you make the business case for keeping or adding pagers to your device mix