Blog
HL7: What it is and why it's important to understand

In May 2018, the Mayo Clinic went live with one of the most expensive EHR implementations of all time. The cost? A staggering $1.5 billion. While the Mayo Clinic is one example of the high costs of EHRs, it's not entirely in a league of its own. Though costs vary widely depending on the needs of the organization, the average cost of purchasing and installing an EHR system is $15,000-$70,000 per provider—making it common for hospitals and healthcare organizations to spend millions on their implementations.
It goes without saying that the astounding EHR costs come with high expectations for the technology to perform. It's common to move from a phase of implementation to one of leveraging the EHR to get the most benefit out of the investment. In early 2020, health system CIOs ranked EHR optimization as the top health IT priority.
One way to optimize EHR systems is to ensure providers can use the wealth of information these systems provide to share data and functionality with other hospital systems key to patient care—making industry integration standards such as HL7 important to understand.
What is HL7?
Health Level Seven (HL7) is a set of standards that incorporate file-based transactions and the newer XML-based Fast Healthcare Interoperability Resources (FHIR) protocols to establish methods to exchange electronic health information. These standards create rules for how to structure data and allow for a seamless flow of information between systems. Healthcare organizations who openly adopt standards like HL7 have the tools required to make important operational content like patient data and staff scheduling content available to one another to enable automation and more efficient workflows in multi-application environments. HL7 standards don't regulate how to build healthcare systems or applications, but provide a guide for how clinical information should be compiled. According to HL7 international, the standards are recognized as the most commonly used in the world.
The HL7 standards in healthcare have similarities to the Dewey Decimal system in libraries. Librarians follow rules for how each nonfiction title should be described and categorized in a consistent structure following accepted rules. Readers who want to find a specific title can learn how to retrieve the title, regardless of which library they are in. Many other industries have similar standards, often accredited by the American National Standards Institute (ANSI).
How are HL7 and other standards used in healthcare?
HL7 standards are healthcare-specific formatted messages that support a variety of system integrations and interoperability—and enable EHRs to communicate with a variety of systems that operate outside the EHR.
Integrating the Healthcare Enterprise (IHE) is an initiative to improve how healthcare organizations share information. IHE promotes the use of standards like HL7 and calls for systems to be developed with these standards to enable better care across healthcare.
More about APIs and FHIR
As you learn about HL7 standards, you'll see more information on FHIR based application program interfaces (APIs).
APIs
Essentially, APIs allow two applications to exchange data—or "talk" to each other. Traditional HL7 standards on their own aren't configured to work with many nonclinical applications, like mobile devices. They often use an enterprise interface engine, which works well for exchanging information from one EHR to another, for example, but not well for nonclinical systems. The use of APIs allow HL7 messages to transform into data formats other systems can read.
FHIR
FHIR (pronounced "Fire") is the newest framework developed by HL7. FHIR was developed from HL7 standards but, unlike the HL7 standards, was created specifically for the web. FHIR is a newer, still-developing method of integration. Businesses including Microsoft, Apple, and Cerner provide FHIR options as a push to gain momentum in interoperable methods for obtaining patient health data from personal devices.
Currently, APIs and FHIR are implemented on top of or with HL7 standards. They will continue to expand in the coming years to allow a more sophisticated level of data interaction with all healthcare applications.
Need an example?
As a healthcare communications company, Spok currently leverages HL7 integration to pull inputs from a variety of hospital systems which may include the EHR, patient care devices, laboratory, radiology, nurse call systems and others, to drive alerting workflows and team communications via a variety of mobile devices. These can range from a smartphone, to a pager, and others.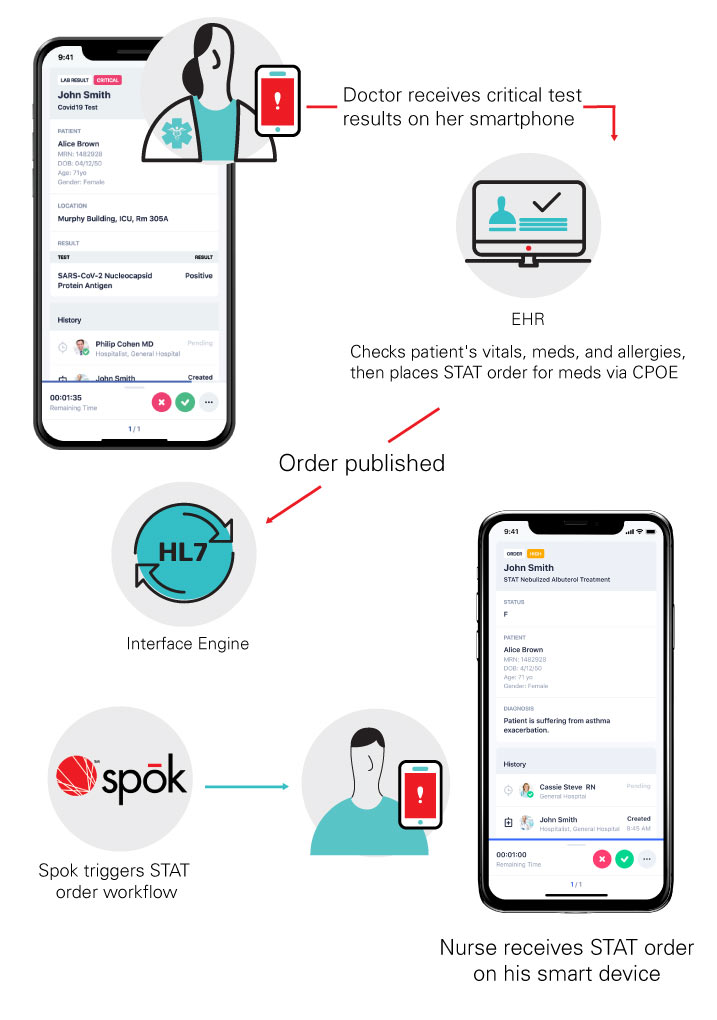 Challenges of HL7
HL7 standards are sometimes called the "non-standard standard." Meaning, in an effort to make the standards flexible, they are ultimately implemented and interpreted differently across healthcare organizations. However, each version of the HL7 standards has resulted in stricter standards to improve consistency across organizations, recognizing the need for more stringent rules. Additionally, APIs can also work to help overcome these challenges.
The IHE is also working to make HL7 standards more predictable and readable by developing profiles, which creates another layer of policies. For example, these profiles create standards for patient care devices that allow "out of the box" integrations with EHRs and communication devices.
The future of HL7
Often, no one method of integration provides a complete set of tools to meet the needs of a healthcare organization and all the solutions they use. That will remain true for the foreseeable future.
With our mission of making healthcare communication smarter and faster, we have a vested interest in being part of the conversations around the future of HL7, APIs, and FHIR. In fact, I'm the planning committee co-chair for the IHE patient care device domain. As part of this group I'm also the working group co-lead for the alert communication management integration profile.
The IHE devices/patient care domain program is currently working on a "quiet hospital" initiative to bring together multiple vendors to positively impact alarm fatigue. By participating in IHE on developing HL7 standards, Spok will be a significant part of FHIR development efforts in the future. This allows us to constantly improve healthcare communication for our customers and the healthcare community.
Editor's note: This post was originally published in January 2020 and has been updated for relevancy and accuracy.
Join the Spok blog and stay informed on the latest updates in clinical communications.