Blog
The Contact Center as a Path to Hospital Transformation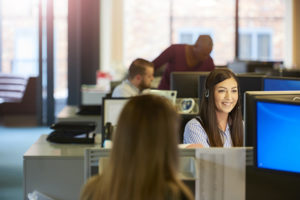 When's the last time you took a good look at your hospital contact center?
This often-underappreciated operation may very well be key to your hospital's success in a technologically complex future. In our latest survey of 400 healthcare professionals, most contact center strategies were described as "enterprise transformation" initiatives (48 percent), rather than standalone technology (27 percent), or communications initiatives (12 percent).
This makes perfect sense when you consider that hospitals operate in the midst of relentless change, which ramps up stress on communications. The Joint Commission has recognized the danger of communication failures in today's healthcare environment with its National Patient Safety Goal #2: "Improve the effectiveness of communication among caregivers."
Shifting regulations, consolidations of healthcare entities, proliferation of technology, and an increasingly mobile staff allcontribute complexity and volume to communication workflows. An effective hospital contact center is key to simplifying communications and transforming the patient and provider experience for the better.
Simplify Your (Clinical Communications) Life
Many hospitals now have smartphones, pagers, Wi-Fi phones, tablets, EHR inboxes, and a plethora of communication apps to keep track of. But the proliferation of technology does not necessarily bring greater collaboration, accuracy, or security to patient care. Ideally, all the disparate roles, systems, and workflows within the hospital should work together seamlessly. Of course, it doesn't always work that way.
Facing this barrage of technology devices and apps, and the explosion of information, many hospitals and health systems are looking to streamline clinical communications for mobile staff while safeguarding protected health information (PHI) and assuring the delivery of messages to the right person. Centralizing and standardizing communications is the logical response to bring order to complexity. To manage this complexity, many hospitals are turning to a centralized function already in operation—the contact center—to unify often-disjointed communication workflows.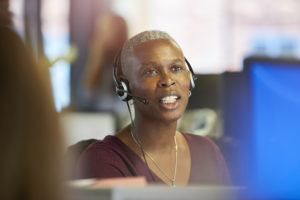 Because a contact center is already tasked with answering questions, fielding and transferring calls, relaying vital information, providing physician answering services, launching code calls, and much more, it can be accurately described as the patient communication backbone of the organization. A logical next step is to expand it into a centralized resource for all types of communication, including clinical workflows.
Many hospitals have evolved the contact center into the place where widely diverse institutional communications flow through a central hub. The use of an enterprise-wide technology platform makes this a logical and relatively simple transition. Why? Because the contact center and the clinical departments are already using the same source of truth, the enterprise directory, for contact details, preferences, and schedules. It's also a move that typically translates to significant cost savings, as the infrastructure consolidation of technology is often accompanied by a physical consolidation of agents into one location.
An Agent for Organizational Change in Hospitals
In addition to nearly half the respondents classifying their contact center strategy as an "enterprise transformation initiative" for their hospitals, the same contact center survey revealed that clinical leadership, physicians, and nurses were the category of staff second-most involved in creating a contact center strategy (trailing only contact center staff itself).
To me, that's a recognition that contact center roles and functions are a key part of a hospital's clinical strategy, not confined to patient communications or administrative functions. It raises the level of a contact center from "department" to "organizational change agent." Hospitals are seeking ways to continue to enhance the traditional functions of the call center to meet the challenges of today's patient and staff clinical workflow needs.
How Does a Transformed Contact Center Improve Clinical Workflows?
Hospitals equipping a contact center with an enterprise-wide technology platform are finding:
1. Increased staff satisfaction and efficiency.
With a centralized contact database, call agents can quickly access the information they need to process calls with just a few keystrokes. Utilizing one technology solution across the enterprise also means staff can manage greater call volumes while reducing operator workloads and fatigue. For example, VCU Health's contact center realized a 10-second drop in average call-handling time for operators, improving caller assistance to boot.
2. Improved response times to critical codes.
When all emergency response sources (facilities, ambulatory, rapid response teams, etc.) and protocols are consolidated into a single contact center function, hospital staff have just one number to call to launch a code. With a consolidated database, one set of tools, and one set of protocols, code alert recipients are notified in the same way every time, no matter their location or device. Consistency plus speed equals better outcomes: See how Banner Health reduced their critical code launch time by 68 percent.
3. Contact center staff are able to handle more diverse tasks and responsibilities.
Staff at contact centers with consolidated technology solutions are able to streamline many processes. The time savings and more sophisticated tools allow them to handle a wider array of requests, including inquiries about costs and insurance plans, appointment scheduling, event registration, physician-to-physician referrals, nurse triage, as well as consult requests and code alerts. With automated greetings that provided routine information to callers, Peninsula Regional Medical Center was able to reduce operator call volume by 17 percent. Patients and their families get the information they need without being connected to an operator, which allows the call agents to focus on other responsibilities.
4. Enhanced security and risk management through encrypted messaging.
In an era of ransomware attacks and data hackers, a password-protected system helps maintain data security while still letting staff securely log on anywhere, anytime to update contact information and on-call schedules, search the directory, or send important messages. With a web-based directory and secure messaging that can be accessed by anyone throughout the facility, staff are empowered to communicate without operator assistance. At UnityPoint Health – Meriter, transferring the responsibility of managing on-call schedules from the operators to individual departments reduced the time contact center staff spent updating department on-call schedules by 67 percent.
The key to success is an efficient communications infrastructure, anchored by a smoothly functioning contact center that's ready for the future. If you have a contact center, you can do it!