Blog
5 Ways to Leverage Your Hospital Contact Center for Clinical Communications
Contact center staff do such much more than field calls in today's modern hospital. Healthcare contact centers have evolved from siloed call centers to multi-functional communications hubs. They touch virtually every area of the hospital. Their expanded responsibilities, including their vital role in helping busy clinicians provide well-coordinated care, are mission-critical. Is your hospital doing everything it can to maximize its contact center to better support providers and patients? Check out five ways to better leverage your hospital contact center for clinical communications: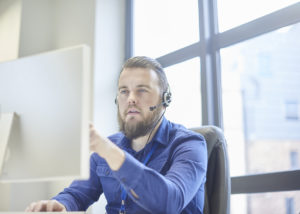 1. Maintain vital information: Contact center teams are tasked with maintaining vital information to support clinical communications throughout the hospital, including employee contact information, on-call schedules, physician on-call lists, and more. This is not an easy task if your organization currently stores this information in multiple databases and disparate systems. Contact center software can consolidate all of that data into a centralized, web-based directory and on-call scheduling system that both the contact center and individual departments can update in real time. For example, Meriter-UnityPoint Health has 158 departments within the system, and they used to print paper copies of on-call schedules. Once Meriter-UnityPoint upgraded to a healthcare console solution with a web directory and on-call scheduling solution, they reduced time spent updating on-call schedules by 67 percent and were able to eliminate the floating paper copies and fully rely on the information, increasing efficiency and  patient safety.
2. Coordinate response to emergency codes: With an integrated healthcare operator console in place, a clinician can hit the code blue button in the patient's room and simultaneously notify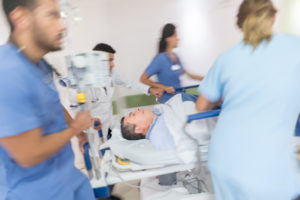 the response team and the operator. Codes pop up on an operator's screen and they can perform the tasks that coincide with the code according to hospital procedure. They may log the code and track responses and escalations; make overhead announcements; or message additional staff. This allows the care team responding to the code to devote all of their attention to resuscitating the patient and the operator to assist with the other activities needed for a fully integrated method of response. At Banner Health, nurses sometimes had to leave a patient to make a call to the operator to launch a code. When Banner implemented an integrated operator console, their nurses were able to push the code blue button at the bedside and instantly alert operators with all of the information they need—the facility, room, and other pertinent details—and staff gained back that valuable time for patient care.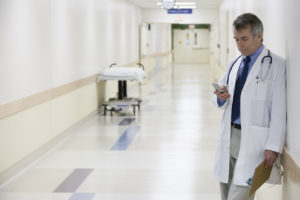 3. Deliver critical messages to clinicians on their preferred device: Hospital contact centers are charged with providing excellent service not only to their external customers—patients and their families—but also to their internal ones—physicians, nurses, and other staff. A fully integrated contact center allows operators to send messages to clinicians on their device of choice, whether that's a smartphone, tablet, pager, Wi-Fi phone, or voice badge. This flexibility was a request of physicians at McLaren Northern Michigan: They wanted to receive critical messages on their smartphones in addition to or instead of their pagers. By upgrading their operator console and web solutions, McLaren is now equipped to send messages to multiple devices. If the hospital supports secure communication devices, like secure text messaging smartphone applications or encrypted pagers, operators can even send messages that contain protected health information (PHI).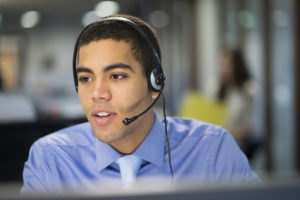 4. Track and escalate messages: Nowadays everyone has a mobile device on them; however, if you're a busy clinician, you may not always be able to check it for critical messages. With integrated contact center and secure messaging solutions, operators can access a full audit trail to see who has or hasn't received a message so they can take further action and escalate the message to another provider if necessary. At North Mississippi Medical Center, this powerful integration and audit trail insight not only sped communications in time-sensitive situations, but it also improved relations between operators and clinicians.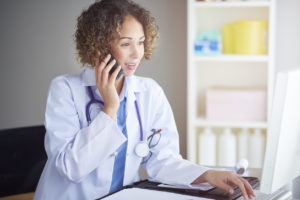 5. Provide after-hours answering services: Contact centers are generally viewed as a necessary expense for running the organization, but many contact centers have turned into revenue-generating departments by providing after-hours answering services for affiliated physician practices. Besides generating revenue, this also gives healthcare organizations more control over the full customer service experience. At Southern New Hampshire Health System (SNHHS), moving their physician answering services in-house worked well for physicians and patients because they were able to rely on the operators' experience in the healthcare environment, which is not always the case with third-party answering service companies. SNHHS was also able to accommodate each physician's unique protocols or requests. For example, "only call a certain phone number after 10 p.m.," or "after two tries, call this number."
Healthcare contact centers are more important than ever. Organizations rely on them to not only deliver exceptional customer service, but also to support exemplary patient care. Technology like the contact center solutions from Spok help tie the contact center more closely to clinical communications and ultimately enhance the patient experience throughout the hospital.
This post previously appeared on our partner ShoreTel's blog.