Blog
5 details to include in every communication plan to support new technology deployment
I've helped deploy technology solutions to countless clinical users – and trust me, having a sound communication plan for any healthcare IT project is critical. Without a communication plan, you risk creating a breakdown where your end users don't clearly understand the benefits of your new technology solution.
The ROI of your project will also depend on how effectively you communicate the plan within your organization. According to research by the Project Management Institute (PMI), among companies with highly effective communication, 80% of projects met their goals, compared to a 52% success rate for those with minimally effective communication.
A communication plan has a lot of moving parts, but we're here to help: Here are the five critical details that you should include in every communication plan.
1. Why: Vision, mission, and goals of a healthcare communication plan
The first step is to answer three related and big questions:
What are we trying to improve or solve for?
How does this benefit the organization and the users?
What will make these things clear to stakeholders and users?
In my experience, technology adoption should not be the goal—goals should drive adoption. A successful project vision aligns with the vision and values of your organization—a "golden thread" that connects everything your organization does.
Next, state how your project will help your organization achieve its vision—this is your project mission.
Finally, determine your project goals, which will be the measurable performance indicators that will help determine if the project is successful.
2. Who: Target audience and segmentation
Know your audience! Executives, physicians, nurses, radiologists, and contact center operators may all be stakeholders. However, their roles, opinions, and even mobile devices are likely to be very different. If you roll out your initiative to everyone in the same way, you miss out on the opportunity to really resonate with your audiences. Determine who your target audiences are and outline the direct, organization, and patient benefits for each audience. Then, segment based on these roles and interests/benefits.
3. What: Key positioning and messaging
When positioning your project in your organization, make it easy for your target audiences to understand the technology value for their role. Focus on patient care, satisfaction, and privacy, and position the solution as a clinical initiative, rather than an IT one. When it comes to messaging, it's best to follow the three Cs when you're communicating the mission, user benefits, and organizational goals to gain and maintain audience trust:
Clear: Use plain language, speak in their terms, be relevant to audience
Concise: Limit word count, use a 'short burst' strategy, use images when possible
Consistent: Build on a storyline, show goals followed by results, never change mid-flight
4. When: Organizational change management (OCM)-driven timeline
Organizational change management (OCM) might just be the key to your success. Why does it matter? An astounding 93% of projects met or exceeded objectives when the project included excellent OCM. We recommend considering the five phases of an OCM communication plan, known as ADKAR: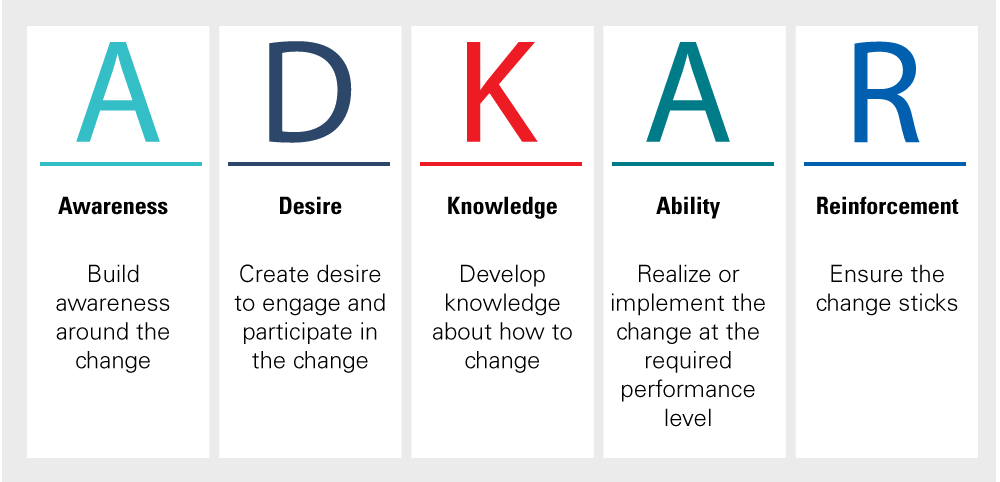 Going through the ADKAR plan helps ensure you have goals, tactics, key messages, and timelines built around each of the vital ADKAR components.
5. How: Build internal communication campaigns
The last step is to go beyond communicating to truly marketing your project. By that I don't mean catchphrases or flashy graphics, but well-strategized campaigns that speak to your audience's desires. For example, results, testimonials, and real-world outcomes for each of your target audiences help demonstrate "what's in it for them." Not sure if what you have in mind will resonate? Try to find one person within each of your target audience groups to be both champions of the project and sounding boards for key messages.
These five steps may make a communication plan seem easy, but you can see each one is loaded with considerations. Developing a robust plan can feel overwhelming—especially if you're managing several projects at one time.
That's what I'm here for—the Spok Professional Services team can work with you side by side on developing a communication plan that not only addresses these details, but also provides the niche expertise that comes with helping countless other healthcare organizations with projects like yours. Let us know how we can help!
Editor's note: This post was originally published in February 2018 and has been updated for relevancy and accuracy. 
Join the Spok blog and stay informed on the latest updates in clinical communications.