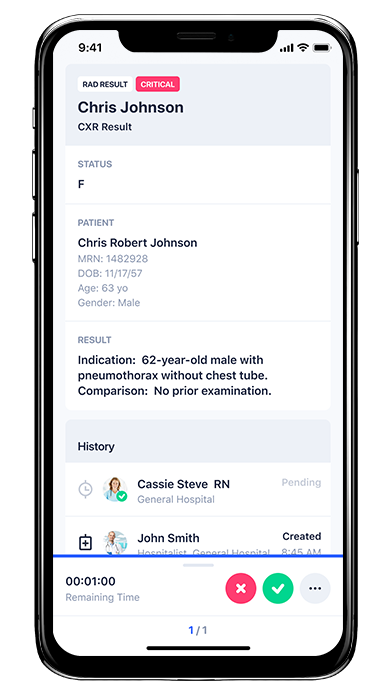 Quickly notify designated providers of critical test results
Securely and rapidly transfer test result information to the correct care team member. Remove manual processes to automate communication of critical test results. Improve patient safety by decreasing transcription errors, communication failures, and delays. Better care coordination means lower cost of care and improved patient outcomes.
Escalate critical results
Don't be left wondering if your critical results reached the right provider. Define where critical results should go and escalate them to other recipients when necessary. Trust your critical results won't get lost in a communication dead end.
Provide communication flexibility
Your lab and radiology departments can securely send messages, images, and annotations to care team members on a variety of endpoints such as workstations, laptops, smartphones, pagers, and other mobile devices.
Meet regulatory requirements for communication of critical results
Help ensure compliance with the Joint Commission National Patient Safety Goal #2 to report critical results of tests and diagnostic procedures on a timely basis. A time-stamped log of communications makes it easy to meet documentation requirements and help avoid potential litigation costs.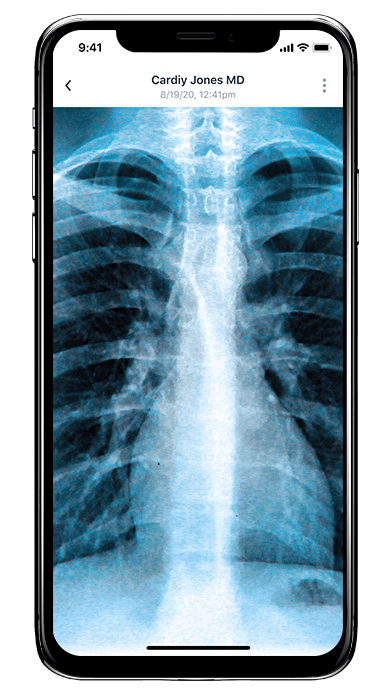 Putting patient care first
Use Spok Go® to deliver clinical workflow automation to enable efficient, safe patient care.
Your platform solution
for clinical communications
Explore Spok Go®:
Spok Go overview
Purpose-built in the cloud for healthcare, Spok Go connects clinical teams with the people and information they need when and where it matters most
Secure messaging
Enable seamless communication with care teams across your health system
Enterprise directory
Rely on one centralized directory as the single source of truth for all roles across your hospital
On-call scheduling
Provide accurate and up-to-date scheduling information at your fingertips
Clinical care
Connect clinical teams with the people and information they need when and where it matters most
Clinical diagnostics
Speed delivery of radiology and laboratory results for improved patient care
Contact center
Improve caller service through best-in-class contact center solutions
Paging
Manage your paging strategy with the nation's largest paging network