Blog
5 reasons hospitals value encrypted pagers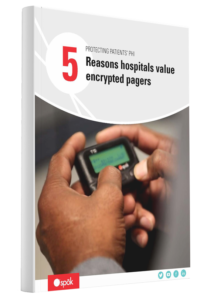 Yes, pagers have a reputation for being "old technology" and there's no question that smartphones, tablets, and other devices have changed how people communicate in healthcare. But while some physicians and other clinical staff have migrated to using smartphones for time-sensitive communications, pagers remain key for many personnel, especially now that encrypted pagers are available for use in environments that demand HIPAA compliance.
So, why are many leading hospitals still maintaining their paging systems while adding many other device types to the mix? In this eBook, we'll explore why healthcare organizations still value pagers for their reliability, simplicity, and longevity among physicians and nurses on the frontline of care, as well as nonclinical care team members "behind the scenes."
In this guide, you'll learn:
Why leading hospitals are still maintaining their paging systems
How pagers work in different ways to keep staff in touch
How pagers are filling a crucial role in the response to COVID-19
Device diversity is the name of the game
Many leading hospitals today seek to integrate encrypted pagers into their workflows and secure communications along with smartphones for maximum benefit and coverage (there's no need to give up pagers to use a modern communication platform!)  Download the eBook to learn more about how to use pagers in a broad and flexible device-agnostic communications infrastructure.
Join the Spok blog and stay informed on the latest updates in clinical communications.