Blog
Shifting Gears: 6 Ways Clinicians Can Transition Into Health IT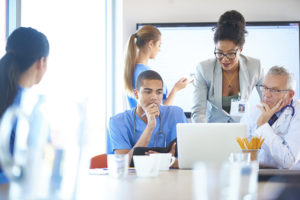 This week (Oct. 8-12) is National Health IT Week, a nationwide awareness week celebrating the essential role of health IT in transforming healthcare.
Health IT certainly is essential to evolving an industry that is navigating an incredible wave of disruption, and clinicians with technology expertise are key to catalyzing change, accelerating progress, enhancing patient-centric care, and ultimately improving health outcomes.
Physicians and nurses are increasingly needed on the technology side of the industry within hospitals and health systems to evaluate, select, and optimize solutions that streamline clinical workflows and support excellent patient care. They are also needed within healthcare IT companies like Spok to advise the development of new clinical technology.
How can physicians and nurses with interest in technology successfully shift gears from traditional clinical roles and break into the health IT field in roles such as CMIO, CNIO, director of clinical informatics, or nursing informaticist?
There's no one-size-fits-all, direct path to transitioning mid-career from seeing patients to overseeing clinical technology, but we've drawn on our own experience and lessons learned to offer six helpful tips to get started.
1. Recognize being a health IT leader is very different than being a caregiver
This initial step may seem obvious, but it's the area that we've personally seen more physicians and nurses fail at during this transition. As a caregiver, you're typically working with the same care team day in and day out. As a health IT leader, your position will be elevated to oversee department-, hospital- or system-wide technology priorities and staff, which will include working with business and technical teams in addition to clinical teams. It's important to understand from the outset how much bigger and more diverse your professional sphere will be, and to be able to effectively manage it. You'll need to collaborate to take advantage of each person's skills, and to understand each person's constraints and priorities in the context of what you're trying to accomplish.
2. Determine your goal and embrace change
Once you recognize the differences between health IT and caregiving, it's time to honestly gauge your passion for healthcare IT and contemplate the type of role you're most interested in. As a nurse or physician, you've already undergone considerable formal education and training. There's no doubt that your background will be incredibly valuable to advancing health IT, but you want to be certain it aligns with your vision, values, and goals—what will make you most happy? It's important to seek a career in health IT because you're genuinely excited and energized by it, rather than feeling burned out on clinical practice. You don't need to determine a specific position right away—fast-paced health IT careers often take you to unexpected places—but you do need to embrace change. As the industry enters the post-EHR era, there will be no shortage of ambiguity and many crossroads requiring tough decisions.
3. Seek out opportunities in your organization
Not 100 percent sure if a career shift is right for you? A great way to dip your toes in the water is to seek out opportunities and training within your current role to expand your health IT knowledge. This could come in many forms: Joining a physician or nursing advisory group, volunteering for advanced EHR training, or offering to pilot new technology within your department. Find your colleagues who may already be informatics experts or tech geeks and ask how they became that way and what you can do. Many of your vendors have training, user groups, and ongoing education that you can take advantage of as well.
Nat'e's story: As a critical care nurse on a cardiac unit, I actively sought out technology initiatives within my department. I worked on increasing information literacy, meeting standards and policy initiatives for meaningful use, implemented computerized provider order entry solutions, and advised on EHR implementation and optimization. Because I always raised my hand for these health IT initiatives, I was a natural pick for each advancement: from nurse manager to senior director or nursing operations to CNO to Chief Clinical Informatics Officer. Volunteering for what many saw as "extra work" allowed me to expand my horizons and grow my career in ways I could have never imagined.
4. Enhance your education with formal training
While returning to school after already receiving advanced degrees and passing boards can be a discouraging thought, there are many programs that take a year or two and can greatly enhance your ability to secure and execute a position in health IT. Common degrees that complement your clinical training include MBA, MSN, or MS in IT. Sometimes even a fellowship or certification program is enough to give you the edge you need to go far in health IT.
Andrew's story: After residency, I was able to connect with a health IT startup company as an unpaid intern. I went back to school for my MBA while I continued to practice, then following graduation I joined that startup full time. It was ultimately acquired, and by then I had a great foundation to continue to advance my career in health IT. I think of my role as being at the intersection of the needs of the physicians and clinical care, the financial and business goals of the organization, and the capabilities and constraints of the technology—how do I find the solution that optimizes those three forces to find the best solution?
5. Join informatics associations and review their training opportunities and certifications
Another way to expand your health IT knowledge is to join communities of like-minded clinicians. Professional organizations with an informatics focus provide a way to connect with colleagues, stay up-to-date with new trends, continue your professional development with in-person and virtual resources, and earn CEUs and specialty certifications. Here are a few that we recommend:
6. Find a mentor in health IT
One of the most helpful methods we both recommend is to find a mentor you look up to who has charted a similar path from practicing provider to health IT. This could be someone within your current organization, or someone you meet at a networking event or through a mutual connection. If it isn't clear who may be the best person to advise you on your journey, research titles you're interested in on LinkedIn and ask around within your network to find professionals who may be willing to do a simple informational interview with you so you can learn more about what they do and potentially open your eyes to new possibilities.
If you enjoy developing technology and advancing its applications to promote better patient care, health IT is the ideal field to be in. Both of us left our roles at large health systems—as a hospitalist and a CNO—for careers in health IT because the impact is even bigger. Our driving force, like most clinicians, is to improve patient care. However, there are only so many patients you can help in one day. With health IT, you can potentially help thousands or tens of thousands of patients each and every day with solutions that improve patient care at hospitals across the country and around the world.
Good luck to you on your journey into health IT, and please don't hesitate to reach out to us if we can be of service.