Blog
The ROI of the Spok Go® clinical communication and collaboration platform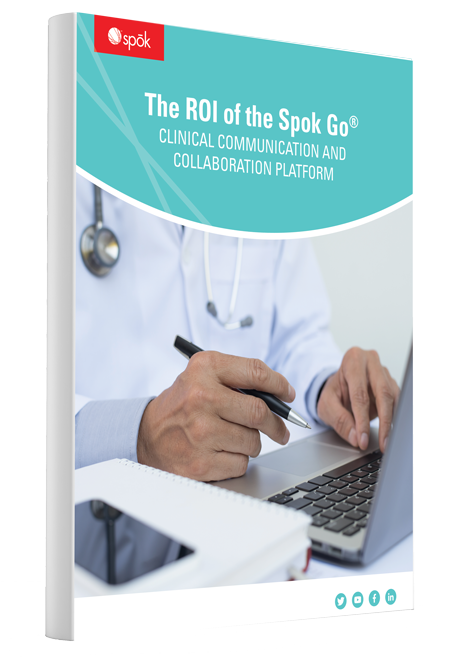 While the ramifications of COVID-19 on healthcare haven't yet been fully realized, at least one thing is certain—digital transformation in healthcare is happening at an increasingly rapid pace. Digital transformations that once took decades have been compressed to two- to three-year plans as hospitals and health systems "did what it took" to respond to the pandemic.
Though digital transformation in healthcare has been a conversation point for years, notably in the early 2010s with electronic health record requirements, COVID-19 was a catalyst for advancing technology at a rate previously considered impossible.
At the same time, healthcare services spending took a substantial hit in 2020 as hospitals and patients delayed elective care and other non-COVID medical care. Not only did forgone services impact the bottom line, but hospitals and health systems had additional financial burdens to support testing efforts, increase ICU capacities, and purchase additional personal protective equipment (PPE), which was often in limited supply.
While coronavirus infections are currently increasing as the Delta variant spreads, hospitalizations and deaths are increasing slower than cases due to the majority of vulnerable populations being fully- vaccinated. At the time of publication, about 53% of adult U.S. residents are fully vaccinated and hospitalizations in most parts of the country are at a fraction of their 2020 peak.
With innovation accelerating at a rate never before seen, it begs the question: How can hospitals and health systems maintain technological advancements while managing costs and business efficiencies? Simply put, how do you do more with less?
What you'll learn
In this eBook, we'll explore how hospitals and health systems can embrace digital transformation for clinical communication while coping with the financial impact of the pandemic.
The Scottsdale Institute recently conducted a digital roundtable with CIOs from leading healthcare organizations who agree organizations will need to leverage several tactics to operate technology with fewer resources, including:
Consolidate technology
Optimize existing applications
Leverage the cloud
Rely on vendors to support virtual implementations
Download the eBook to see how Spok Go can address each of these tactics to help your hospital or health system implement better communication technology with fewer resources.