Blog
Purge the Pager? At Your Own Risk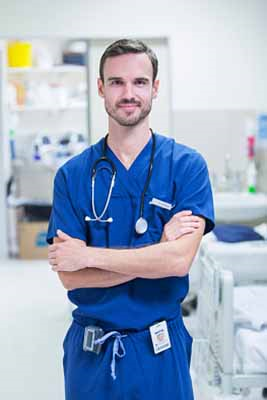 At the end of last month, the National Health Service in the U.K. made a bold declaration: NHS Health Secretary Matt Hancock ordered the removal of pagers from NHS trusts by the end of 2021. "We've axed the fax, now we want to purge the pager," Hancock stated.
However, unlike the fax, which is primarily used both in the U.K. and the U.S. for sending documentation like patient records, the pager is used for critical communications. The problem with purging the pager, as this Wired article points out, is that pagers save lives. And they've been a mainstay for so many years because the technology works. Carpenters may use nail guns when building a house, but they still have a hammer in their toolbox. The right tool for the right job is important.
It's something NHS workers know to be true: As news of the ban and the #purgethepager hashtag spread, they took to Twitter to outline the many reasons pagers remain popular among care teams and they supported pagers as crucial tools to coordinating and delivering patient care.
The NHS wants to replace pagers with secure messaging apps on smartphones. As both an innovative software company that offers secure messaging on the Spok Care Connect platform and the largest paging carrier in the U.S., with over 1 million pagers in circulation, we have a unique and balanced perspective. We provide options to our customers, enabling them to use various devices to meet their needs.  And what many customers have told us is that, whether in the U.K. or the U.S., purging the pager is a shortsighted move that comes with many risks.
Risk #1: Some Care Team Roles Are Left Out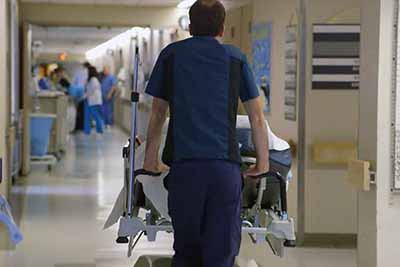 Smartphones have been gamechangers in every industry, and in healthcare, having a pocket-sized computer has been a tremendous asset for mobile clinicians. Physicians, often empowered to use their own device at work (BYOD), and nurses alike rely on having detailed information at their fingertips, whether that's secure care team conversations, real-time alerts from the systems they rely on, or clinical decision support applications. However, plenty of staff don't want to use their personal device for work, and many roles may not even have a use for a smartphone. For example, non-clinical roles like transport, environmental services, and system technicians all have a need to communicate, but a smartphone would likely be overkill since they don't have a need for the same applications as the clinical roles. It wouldn't be cost effective for the organization to equip every staff member with a smartphone, which in addition to the cost of the first device, are incredibly expensive to maintain and upgrade. At Spok, we encourage our 1,900+ healthcare customers to embrace device diversity and choose the device best suited for the role. No matter what their device mix looks like—smartphones, pagers, encrypted pagers, tablets, Wi-Fi phones, voice badges—Spok supports critical communication across all endpoints.
Risk #2: Wi-Fi and Cellular Networks Are Unreliable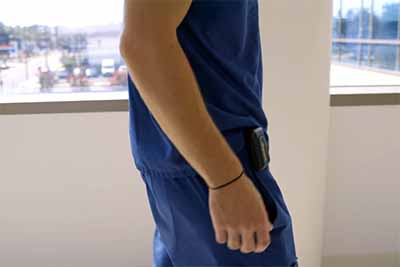 If one could trust messages sent on a smartphone were delivered 100 percent of the time, they would be the best communication device for care teams. But the reliability of Wi-Fi and cellular networks is not up to par for communications that are critical in nature. Often constructed from concrete and steel, hospitals are "notorious Wi-Fi and mobile not-spots." During times of crisis, like disasters, or something as seemingly benign as large crowds at a concert or game at a stadium across the street from the hospital, cellular networks can become overwhelmed. Your message may be prevented from being sent at all, delayed as your device seeks a signal, or it may appear to have been sent, but you have no way of confirming it was successfully delivered. The Spok paging network relies on a dedicated system, high-power simulcast transmitters, and purpose-built devices, and its use by healthcare and other business professionals make it unsusceptible to consumer-based congestion. With 99.92 percent network reliability, care team members can be confident that their patient care or emergency response messages make it to the right people.
Risk #3: Smartphones Tether Care Teams to Chargers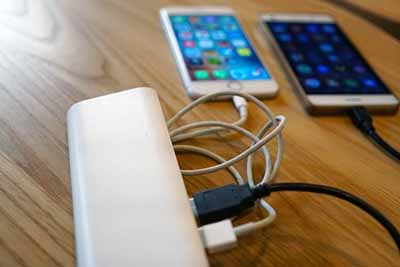 While smartphone batteries have improved significantly in recent years, I don't know anyone who doesn't need to charge their phone at least once every day. This essentially tethers your mobile device to somewhere near an outlet or to a bulky portable power bank. Patient care doesn't happen at a desk, so this is problematic. What do you do when you need to communicate with other members of the care team, and your phone is dead, or is charging in the breakroom on another floor of the hospital? Pagers rely on battery power, and are so efficient that they use very little of it: Most pagers last for up to 30 days on a single AA battery. It's one of the many reasons that even care team members who prefer smartphones receive their pages on both their smartphone and their pager as backup.
Risk #4: Not All Smartphone Messaging Is Healthcare-grade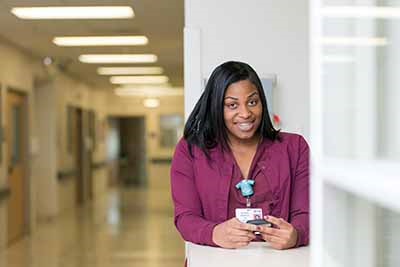 The NHS Health Secretary wants to ditch pagers in favor of "WhatsApp-style messaging solutions." The problem with WhatsApp and other consumer-grade messaging solutions is that they aren't designed for care teams. While some may be secure, not all of them encrypt messages in transit and at rest on the device. Second, secure messaging for healthcare goes beyond simple messaging to incorporate contact details and scheduling for the enterprise, tasks, and integrations with systems like the EHR, ADT, nurse call, patient monitoring, and more. Simply ditching pagers for a smartphone application that isn't built to fully support care teams and their workflows isn't a solution at all.
Finally, contrary to seemingly popular belief, smartphones aren't the only option for encrypted communications. Pagers can be encrypted too, so you can effectively combine the reliability of pagers with full PHI protection and HIPAA compliance.
Care Teams Rely on Pagers
When you're talking about patient lives, are these risks your hospital or health system is willing to take? The healthcare industry has enough challenges without creating new ones by taking away devices that care teams rely on. As this former surgeon points out, "we don't need to ban things to innovate."
An innovative approach at your hospital may be simply asking your care teams what they need to do their jobs better and which communication devices they prefer, and supporting that diverse device mix that is best for the organization. Ideally, you have a mix that empowers both clinical and non-clinical roles to effectively communicate, and is backed by an enterprise communication platform that connects important care team and patient information into messaging and alerting applications.
Spok offers secure mobile messaging on the Spok Care Connect platform as well as one-way, two-way and encrypted paging on the largest narrowband PCS network in the U.S. Some of the largest hospitals and health systems in the country rely on our solutions, and all of the adult and children's hospitals on the U.S. News & World Report's annual "Best Hospital" honor rolls have been our customers for many years. Each month, Spok customers send an average of 105 million paging messages. Clearly, these organizations, some of the most innovative technology adopters in the world, see the value in paging for clinical communications, and we're hopeful the NHS will eventually come to that conclusion too.
Join the Spok blog and stay informed on the latest updates in clinical communications.