Blog
Infographic: Cloud Computing in Healthcare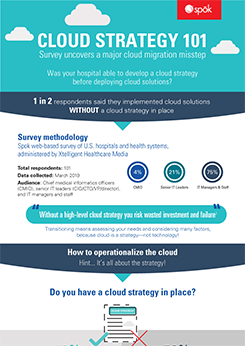 Long after the cloud has permeated consumer uses, many healthcare organizations are now also embracing the full potential of cloud technology. Research by the Healthcare Information and Management Systems Society (HIMSS) showed:
80% of 150 healthcare leaders say they currently use cloud services.
Nearly 60% of CIOs say cloud hosting is among their top 10 priorities.
But, only about 30% have a strategy in place.
Do you have a cloud strategy in place at your hospital?
In our most recent survey of health IT professionals on cloud implementation, 1 in 2 respondents who have implemented cloud solutions did so without a cloud strategy in place.
According to recent Gartner research, creating a strategy is crucial: "Without a high-level cloud strategy you risk wasted investment and failure."
Over 100 CMIOs, senior IT leaders, or IT managers and staff participated in our 2019 survey on cloud strategy. Read everything we learned in our cloud computing in healthcare infographic.
Highlights from the infographic include:
How over 100 healthcare professionals created (or plan to create!) cloud computing strategies.
Decisions and actions to consider when developing a cloud strategy in healthcare.
What respondents say is the number one barrier to planning a strategy.
It's no longer a question of if healthcare organizations should fully embrace cloud technology, but when, and how well they've prepared. Cloud computing in healthcare is a strategy—not technology!