Blog
Create a Consistent Customer Experience Through Your Hospital Contact Center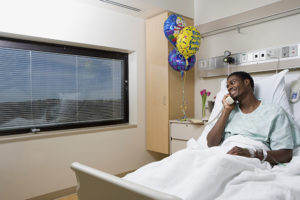 The patient who wants to schedule an appointment as soon as possible. The mother calling to check in on her son's condition. Another patient calling for directions to the hospital with a medical emergency. The husband asking which room his wife and newborn are in.
These are all calls that hospital contact centers answer on a regular basis. Hospital contact centers have many responsibilities that have a direct impact on care team communications and patient outcomes, from activating code calls to deploying emergency notifications. However, it's this relatively routine responsibility of handling outside calls from patients and their loved ones that has an impact on the well-being of the organization itself.
With patients having more freedom of choice among facilities, hospital contact centers seek to be something of a customer service concierge, ensuring a positive patient experience for patients and their families as hospitals aim to advance their HCAHPS scores. Yet as Dr. James Merlino, former Chief Experience Officer at the Cleveland Clinic, points out, healthcare is very different from other customer service environments. It's the "ultimate service business" because in many cases, patients don't want to be a customer at all. Hospital staff are communicating with them often during the most vulnerable part of their lives. Providing excellent customer service to patients over the phone can contribute to an overall positive patient experience and also strengthen your hospital's reputation in the community.
Scale for Success With Technology
Most of our large hospital and health system customers' contact centers field more than 100,000 calls each year. How do you maintain a consistently high level of service with that type of volume and a different request every call? How can you ensure that your call center operators can find the information they need to serve these patients and their families quickly and easily?
Technology can help call agents focus on providing a positive patient experience over the phone by empowering others to manage information, automating routine requests, and ensuring quality with call recording.
1. Empower Clinicians and Clinical Departments
Many hospital call centers still have the burden of managing staff contact information and departmental on-call schedules. An enterprise-wide, online web directory and on-call scheduling solution can empower clinicians to update their contact information and let departments manage their own on-call schedules. This method is far more efficient than relying on the call center, allowing updates to be made far more quickly and making them visible immediately.
This web directory solution also allows any credentialed user to look up another user by name or role and send them a message on whichever device they prefer, eliminating the need to rely on the contact center to do so. This also means you don't need to have the name of the person you're looking for: Simply typing in "on-call hospitalist" will find who that person is at that time, and allow you to message them right away.
2. Deliver Service With a Smile
Busy contact centers field calls all day, every day—and many of these calls may be similar in nature. Frequently asked questions include hospital location and driving directions, patient visiting hours, and asking to talk to a physician or nurse. With a contact center solution, operators can record a variety of greetings and responses. No matter how fatigued they may feel, the caller will always hear a cheerful human greeting, and get their need addressed promptly.
Speech recognition technology can also make life easier for your operators. In addition to having a web-based option for messaging, hospital staff can simply call into your speech system and say the name or role they wish to message, and our speech-to-text engine will get that message out. This can help offload a portion of routine internal requests, such as transfers, directory assistance, messaging, and paging, that can draw operators' time and attention away from offering a high level of service to patients.
3. Ensure Quality
A large hospital has a full team of operators answering thousands of calls each week. It can be difficult to determine how well calls are being handled without any record of those calls or data on operator activities. Call recording and quality management software enhances call quality and professionalism by providing an intuitive system for recording and evaluating how all calls are handled. Contact center managers can record calls as well as concurrent screen activities, monitor performance, and even produce comparative reports for individual agents.
Getting your arms around how calls are being handled both quantitatively (how quickly they're answered, how many calls are dropped, and how accurately calls are routed) and qualitatively (operator tone, caller interaction) can give you a true picture of the patient experience. This can also help guide contact center best practices and operator training.
Give Operators Time Back
Think about how much time your contact center spends updating contact information and on-call schedules, manually handling routine calls, and repeating errors that are never caught. What could that group do with that time back? How would the additional focus on patients help improve the overall patient experience and your hospital's reputation? Imagine the possibilities—speak with us to learn more.