Blog
Calm During the Storm: Maintaining Communication in the Midst of a Disaster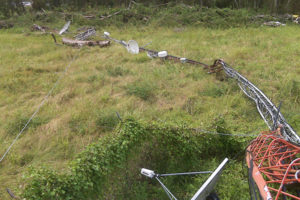 When Hurricane Florence started on its path toward the eastern coast of the U.S. last week, over 1.5 million people fled their homes and traveled inland to seek safer ground and shelter from the monster storm.
At the same time, we were sending Spok team members toward the coast.
It's all a part of our commitment to our healthcare and public safety customers. Critical communications are even more important during a disaster, and our teams make sure messages go through when it matters most.
With the typical hurricane season extending through late November and major winter storms sure to follow, it's important to understand what hospitals can do to avoid workflow disruption and ensure seamless communications during disasters, and how Spok will support you every step of the way.
The Power of Paging During Disasters
Unquestionably, the best communication channel during a disaster is paging. When a natural disaster occurs, there is overwhelming consumer demand on cellular networks, which causes them to become congested and fail. While the cellular networks have improved their bandwidth and uptime over the years, congestion and failure during disaster still occurs—Hurricanes Irma, Harvey, Maria, and Florence all have adversely affected cellular service, as have the deadly wildfires in California.
When nothing else will get through, a page will. There is no reliance on the power grid for charging (a single AA battery can power a pager for weeks) and the paging network is built to accommodate a high number of users during times of congestion. Both one-way and two-way paging are sequential in nature, with the first message in being the first message out. Paging also has limited message lengths, which, in contrast to the unlimited consumption capabilities for cellular, allows for more equal sharing of bandwidth.
How Spok Supports Critical Communications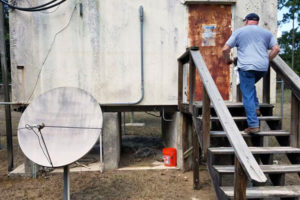 While primary support for the Spok paging network, the largest in the country, is provided out of our Technology Operations Center in Plano, Texas, the network also includes thousands of individual paging transmitters, paging terminals, and PSTN access points. Ahead of storm landfall—really, as soon as a major weather event is forecasted—Spok takes preventive measures to ensure that our network and our public safety and healthcare customers are fully supported and we can effectively respond to any storm-related damage.
While the Spok paging network maintains 99.92 percent uptime, natural disasters can cause damage to the physical infrastructure. There is no good time for downtime in life-saving fields, but certainly the worst is disruption during a time of dire need and an influx of patients during a disaster.
We take every measure to ensure that first responders and healthcare professionals can continue to communicate and assist their communities, including:
Ensuring all portable generators are fueled, tested, and distributed through anticipated affected areas, and stockpiling additional fuel for generators to staging areas outside the expected storm area.
Delivering extra transmitter spare parts, antennas, and dishes, to staging areas.
Backing up all paging databases and readying disaster recovery terminals. In the event of a local paging terminal failure, over-dial numbers are provided.
Readying "Coverage on Wheels" (COWs) for potential deployment. COWs are portable paging transmitters that let first responders and hospitals continue to communicate during times of service disruption due to a disaster situation.
Dispatching Spok technology operations personnel throughout the region to be available to repair storm damage when/if it occurs. We maintain regular communication with them and closely monitor the situation at their location to keep our employees safe.
Sending other emergency supplies, such as food and water, blankets, tarps, and fuel tanks to the affected areas as needed.
Contacting all customers in the region with our guide to disaster preparedness and advising them to call us with any questions, concerns, or issues and regularly contacting major customers.
Monitoring the storm and following up with all customers for site status and providing assistance if needed.
Once a storm makes landfall, teams track the path and evaluate paging transmitters for possible damage. With help from the TOC, technicians can determine which sites are no longer transmitting and need immediate attention. Some locations have minor damage and can be up and running again quickly. Other sites have major damage to the transmitter and require extensive repair. When that happens, our teams set up COWs at the location to restore paging coverage in the area for surrounding hospitals and first responders while we repair the offline sites.
How Healthcare Organizations Can Prepare
When disaster strikes, is your hospital or health system ready to take action to ensure continuous operation? Spok offers a variety of resources on business continuity and disaster recovery to help you with your plans. No matter what happens, you can count on Spok to be your trusted partner for critical communications.