Blog
4 Advantages of a Consolidated Contact Center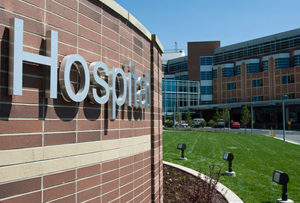 Hospital merger and acquisition (M&A) activity continues to be hot—and shows no signs of slowing down anytime soon. There were 102 hospital merger and purchase transactions announced in 2016, a 55 percent increase compared with 2010, according to a Kaufman Hall analysis of M&A trends. While the process of merging infrastructures, resources, and cultures comes with its challenges, M&A activity can decrease costs though economies of scale and standardization of investments, according to research from the American Hospital Association.
Hospital contact centers are oftentimes left out of these post-merger efforts to consolidate and standardize technologies, but they should not be overlooked. Following a merger, there is a need to support many different locations from both centralized and decentralized contact centers. Procedures may vary based on location and former affiliations, and centers may even have completely different PBX and messaging technologies. It's easy to see how this complexity can lead to confusion, redundant efforts, and poor experiences for patients, care teams, and call center agents. Contact center consolidation is a ripe opportunity for process changes and quality improvements.
Why Hospital Contact Center Consolidation Is Critical
As the heart of the hospital, the contact center touches virtually every area and has a critical role in supporting clinicians, patients, and patient families. So, it makes sense that administrators at recently merged facilities put contact center consolidation at the top of their priority list. With the right supporting technology, it's possible for health systems to centralize contact centers and rely on one location to handle all contact center responsibilities for multiple facilities across the hospital family.
Contact center mergers typically require the consolidation of technology infrastructure and a physical consolidation of all agents to a single location, and this is not a simple process. However, it is well worth your while. Here are four reasons why your organization should take the plunge: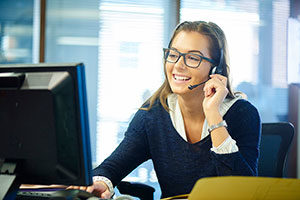 1. Increase Staff Satisfaction and Efficiency
The key to a high-functioning contact center lies in the implementation of advanced software that can easily scale to keep pace with changing call volumes and provide efficient access to information with only a few keystrokes. With a central contact database and intuitive operator console, staff can quickly find the information they need and process calls with keyboard shortcuts. Using a single technology solution across the enterprise allows you to manage greater call volumes while simultaneously reducing operator workloads and fatigue. Call center agents will also appreciate automated paging and messaging technology that frees them up to provide more in-depth caller assistance whenever needed. For example, with a consolidated contact center using Spok technology, Banner Health has been able to process over 4.2 million calls per year, and save more than $750,000 over five years.
2. Improve Response Time to Critical Codes
Here's how a traditional operator workflow works:
Patient's EKG indicates a heart attack; ER nurse initiates the code.
Operator launches code STEMI protocol and begins manually sending pages and working through a calling tree to notify responders.
Operator is left with unconfirmed responses.
Operator spends more time manually sending messages; over communicates to ensure proper staff response.
Messages are received and caregivers rally to help patient.
Here's how an operator workflow improves with a consolidated contact center using a single infrastructure:
Patient's EKG indicates a heart attack; ER nurse initiates the code.
Operator launches code STEMI protocol that initiates automated notifications.
Software determines 'Code STEMI' team members, including on-call members, and staff are automatically contacted on preferred device.
Operator resolves any exceptions.
Caregivers rally quickly to help patient, and a full audit trail tracks timeline and performance.
When seconds count, patients and their families need to know they can rely on your staff to intervene in a timely manner. One way to effectively facilitate these critical codes is by consolidating all emergency response sources (facilities, ambulatory, rapid response teams, etc.) and protocols into a single call center function. On the front end, this gives hospital staff just one number to call whenever an emergency code needs to be launched, whether it's a fire, a gas outage, or a patient in need of immediate assistance.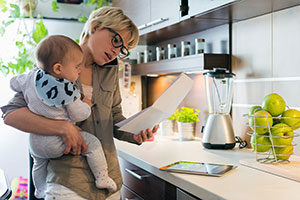 3. Take Your Agents to the Next Level
Prospective patients are spending more time researching care options, prices and provider availability before deciding where to go for their health care. With a consolidated contact center, your operators will be able to do more than just answer and forward calls. With a healthcare communication platform, your contact center will be able to assist patients more consistently and efficiently with inquiries about cost, coverage, appointment scheduling, referrals, and nurse triage assistance. The same platform can be used by your call center agents to assist in after-hours answering services, thus ensuring the same level of care is provided during and outside of regular business hours.
4. Enhance Security and Risk Management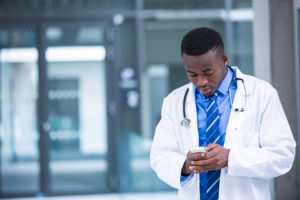 In an era where cyberattacks and data breaches are rampant, it's essential to have the right security for all information in the hospital, especially protected health information (PHI). Having an integrated and encrypted system lets providers and operators securely access information from anywhere and at any time. Whether updating contact information, viewing on-call schedules, searching the directory, or sending important messages, your facility's critical communications are available on-the-go for mobile care team members. Additionally, an audit trail of calls lets management retrace conversations if organizational disputes arise.
Consolidate Your Contact Center with Spok
A unified contact center facilitates smooth caregiver and patient interactions, streamlines processes such as launching code calls, and lets agents spend more time focusing on unique questions and providing exemplary customer service. With an innovative platform like Spok Care Connect® you can boost clinician satisfaction, improve the caller experience, and present your best face to the community.
Not sure where to start? Spok has helped many health systems consolidate their contact centers and realize significant cost savings, as well as the quality improvements detailed above. Our experts have handled everything from the acquisition of physician practices, to the mergers of some of the biggest health systems in the country. Our team is ready to set you up for success—contact us to get a project underway.
You can also learn more about this topic by reading our essential guide for hospital contact centers.
Join the Spok blog and stay informed on the latest updates in clinical communications.