Use one communication platform to enhance clinical workflows and improve patient care and safety
Your partner for unified clinical communications
We understand your health system's communication challenges.
Communication among care team members involves a complex relationship between people, devices, and hospital systems.
You might be struggling with an overwhelming surge of data, gaps in your communication, or inefficient communication workflows. These challenges make your job harder and negatively impact patient outcomes. There's a healthcare communication solution to help – Spok Care Connect®.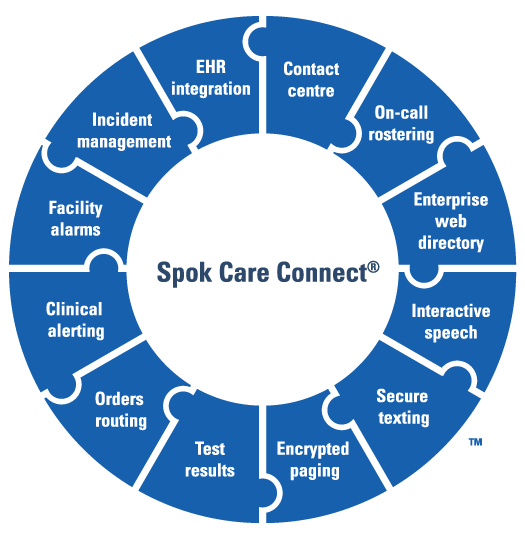 Benefits of a healthcare communication and collaboration platform
Optimise patient care coordination and improve patient experience
Spok Care Connect is a full suite of solutions that integrates with your existing systems for accessing, prioritising, and acting on information. Our unified communication platform provides care team collaboration, closed loop communication, and secure messaging to enhance your clinical workflows. Spok Care Connect is the unified communication platform that can help you solve multiple challenges across different areas, departments, and locations in your health system.
How to solve communication challenges across your health system
Organisations rely on Spok for our web directory, secure texting, workflow improvement, and contact center optimization solutions, among other services.
Ready to learn more?
We understand every organisation is unique and we're here to help determine what solutions will best meet your health system's needs.
Spok Care Connect resources
Contact us for 24/7/365 support
Find user guides, release notes, and troubleshooting help
Your platform solution for clinical communications
Explore Spok Care Connect®:
Spok Care Connect overview
Improve workflows across your organisation, from the contact centre to the patient's bedside. Include everyone on your care teams, from doctors and nurses to housekeeping and transport staff.
Secure messaging
Enable seamless communication with care teams across your health system
Enterprise directory
Reduce errors and wasted time with one centralised source of accurate contact data for all roles across the health system
On-call rostering
Provide accurate and up-to-date rostering information at your fingertips
Clinical care
Connect clinical teams with the people and information they need when and where it matters most
Contact centre 
Improve caller service through best-in-class contact centre solutions