Improve patient safety and satisfaction through clearer care team communication
Streamline workflows and communication processes for nurse call, code events, rapid response team, orders routing, and other critical care tasks.
See it in action: Nurse call workflow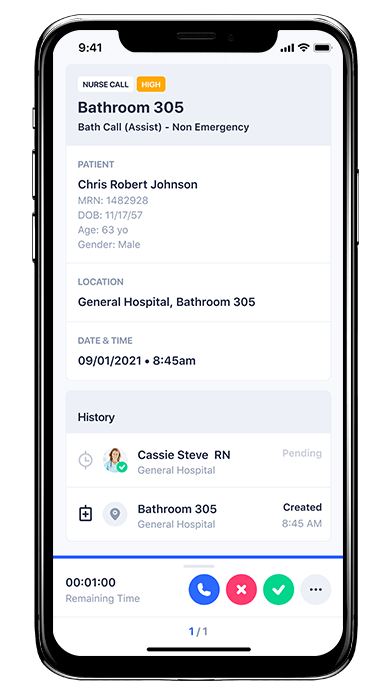 Mobilise orders from the EMR
Transform how your care teams work with your EMR. See time-sensitive alerts and messages without having to check your EMR inbox. Make alerts and messages more actionable using data in the EMR. Exchange time-sensitive clinical data to speed response, connect caregivers, and improve patient care.
Respond quickly to patient call requests
Deliver nurse call alerts directly to the correct clinical provider on their preferred device to enable quick responses to patient needs or requests. Route requests for water, information, or bathroom assistance to other staff as needed. Give your patients the ability to communicate quickly, and your nurses more efficient and streamlined clinical workflows.
Activate code teams
Quickly and reliably notify staff during situations that require rapid response. Send notifications of critical information quickly to any device. You can count on delivery of your communications when time is of the essence to quickly mobilise response teams.
Standardise communication protocols with flexible workflow templates
Help care teams streamline patient care processes and standardise on best practices. Use our powerful workflow engine to automate alerts from the EMR, nurse call, and other clinical systems with the ability to escalate when necessary to ensure faster response to patient needs. Flexible templates enable you to easily configure workflows to meet the needs of your care team.
Support your alarm management initiative
Establish rules that direct alarms to the right staff members. Remove off-duty staff from updates. Help remove the burden of alarm fatigue and communication challenges for your providers.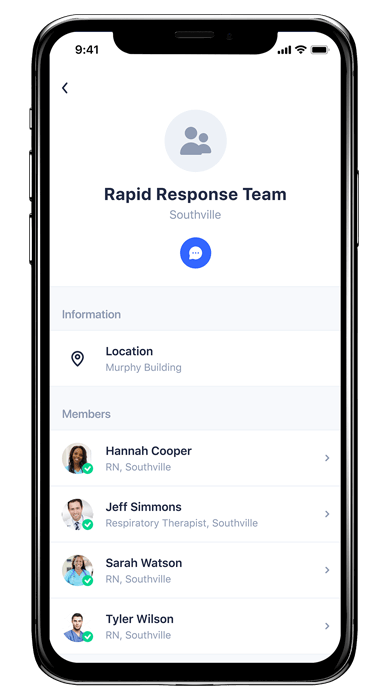 Putting patient care first
Use Spok Go® to deliver clinical workflow automation to enable efficient, safe patient care.
Your platform solution for clinical communications
Explore Spok Go®:
Spok Go overview
Purpose-built in the cloud for healthcare, Spok Go connects clinical teams with the people and information they need when and where it matters most
Secure messaging 
Enable seamless communication with care teams across your health system
Enterprise directory 
Rely on one centralised directory as the single source of truth for all roles across your hospital
On-call rostering 
Provide accurate and up-to-date rostering information at your fingertips
Clinical care 
Connect clinical teams with the people and information they need when and where it matters most
Clinical diagnostics 
Speed delivery of radiology and laboratory results for improved patient care
Contact centre 
Improve caller service through best-in-class contact centre solutions
Paging 
Manage your paging strategy for reliable, cost-effective messaging