Blog
What is change management in healthcare? And why should you pay attention to it?
According to Prosci®, an industry leader in change management, effective change management makes achieving project goals and objectives six times more likely. In addition, change management makes it five times more likely that you'll stay on schedule, and twice as likely that your project will come in on or under budget. (Prosci change management benchmarking data)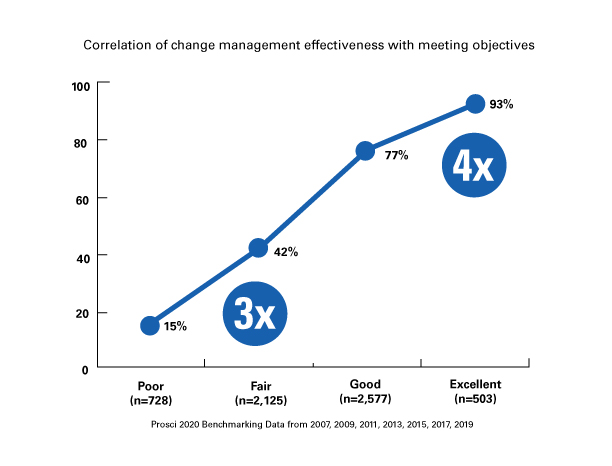 So what is change management? Perhaps the best place to start answering that question is with a simple definition. First and foremost, organizations don't change. People change. And that's where change management focuses, on the individual.
Change management is the application of a structured process and set of tools for leading the people side of change to achieve a desired outcome. (Prosci)
Here's another helpful definition.
Change management is more than a structured and intentional approach for achieving project results. It's also about treating people right and helping the people who make up an organization navigate change in a positive manner. (Prosci)
Types of change
There are two main categories of change:
Incremental
Transformational
Incremental change is easier to successfully implement than is transformational change. It's often based on the current state to improve the existing way of doing our work. It typically involves few changes and affects a small number of people.
Transformational change is more challenging because it's designed from a future state and involves a new way of doing things. This typically involves significant culture change and affects a large number of users. An organization's projects and initiatives have a significant impact on the ways people do their work on a day-to-day basis. Change can impact processes, systems, tools, job roles, workflows, mindsets, behaviors, and more. And each change impacts different groups within your organization differently. The complexity involved in culture change is often why it's easier to change the change than it is to change the culture.
According to McKinsey and Company, 70% of change programs fail to achieve their goals, largely due to employee resistance and lack of management support.
For a change initiative to be regarded as successful, the desired objectives of the effort must be fully realized. The reason so many change initiatives fail is because organizations do not engage in effective change management. Change management makes it possible to raise the efficiency of project work by preparing the staff and the organizational environment for upcoming changes to be implemented within the context of the project.
Examples of transformational change in healthcare abound. But here's a common one: implementing technology to move from paper schedules to electronic schedules. This is a transformational change that impacts cultural norms and impacts a significant portion of the organization.
Helping you manage organizational change
In a recent industry survey, 73% of provider executives said their organizations are automating physicians' administrative tasks. That's a lot of transformational change.
Many healthcare organizations are turning to clinical communication and collaboration tools to help reduce administrative burden. If your organization is one, ensure that your technology partner can also help you manage the change inherent in implementing technology. At Spok, our Professional Services group offers change management as one of many services to ensure your technology projects succeed. If you'd like to explore our technology and service options, please contact us today.