Blog
Revisiting the quadruple aim in the middle of a pandemic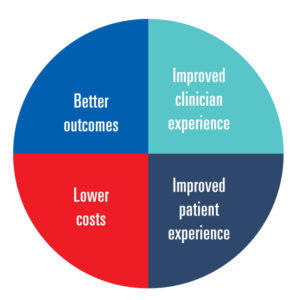 The quadruple aim and provider communications
The quadruple aim is a framework for optimizing health systems by pursuing four goals:
Improved patient experience
Better outcomes
Lower costs of care
Improved clinician experience
In 2019, leading healthcare organizations called physician burnout a public health crisis. In our own survey on burnout, 90% of clinicians believe increased and ineffective technology contributes to the risk of burnout. Now, in our new world, this issue is more pressing than ever before. With COVID-19, healthcare providers are facing extraordinary conditions that we have never encountered before. Research on the mental health implications among healthcare workers during the pandemic response is in its infancy. Yet, risk factors for burnout have been magnified—extremely high demands, lack of control, resource scarcity, ethical dilemmas and personal concerns of bringing the virus home from work are just a few.
Now more than ever it's important to care for our providers as COVID-19 has changed the healthcare landscape. We need to look for ways to lighten the burden on clinicians and lessen their frustrations while they are trying to deliver care. From my personal experience, a common situation that frustrates clinicians is ineffective care team communication. The seemingly never-ending small frustrations and inefficiencies in many health system communication processes add up to a large opportunity to recover lost time for physicians, and to create an easier way for clinicians to collaborate with the rest of the care team as well as their colleagues.
I would like to share five questions healthcare leaders should consider regarding provider communications within their organization to improve the clinician work environment in the pursuit of the quadruple aim:
1. What is the fastest way for clinicians to contact each other? Is this method available to every member of the care team to use?
For many hospitals, most attempts to track down providers wind up going through an answering service, an operator, or the clinic office. Some physicians are fine sharing phone numbers with a few of their colleagues, but that may not be the best way to contact them. With a solution like Spok Go, you can directly send messages via an online, secure directory and messaging system, thus eliminating the need to "track" anything down. You also have the options to text, page, or call after a simple lookup.
2. Do you send your providers messages that deliver rich, detailed, and actionable information?
If you were on the receiving end of this message: 4-5214, what would it mean to you?
Wouldn't you rather receive this message instead?
Janet Smith RM 3201 5/2/1927 has a potassium of 3.0. Margaret Jones, RN x4-5212.
Having an established messaging policy and a standardized template in place for messaging allows providers to react and make decisions from the messages they receive. These messages provide them with the information they need, which allows them to prioritize and to take action and in turn eliminates unnecessary phone calls.
3. Have you eliminated unnecessary calls and pages?
Through an enterprise healthcare communication platform, organizations can perform periodic reviews and analytics to determine inappropriate, redundant, and/or unnecessary messages that add no value to the patient care experience and increase provider frustration. It is possible to eliminate a significant amount of these unnecessary messages to providers by analyzing communication patterns and message content, implementing structured communication templates, and reinforcing proper use of communication tools.
4. Can you eliminate speed bumps so providers can find the right on-call provider quickly?
With constantly changing call schedules, is there a unified, simple way for all your providers to know exactly who to contact, and then be able to quickly communicate with that person? A unified call schedule as part of your communication system creates a single source of truth so care team members know who and how to contact any call group or specialty at any time.
5. Is it a challenge to respond to messages and close the communication loop?
Many communication loops can be closed by a simple response to a message, eliminating unnecessary phone calls and the uncertainty that a message may not have been received and viewed. Intelligent Secure messaging solutions allow for an ongoing, asynchronous dialog that eliminates the frustration of phone tag and being placed on hold, thus eliminating an unnecessary phone call.
Poor clinical communication is often an undervalued component that can waste provider time and cause significant frustration for physicians. Addressing the clinician experience when it comes to clinical communication can be a major step forward to lessen provider frustration and burnout. In order to overcome these challenges and reach the goals of the quadruple aim, it will take a thoughtful, broad set of improvements, and communication workflows and technology improvements. These in turn can make a meaningful difference. By eliminating many daily annoyances and streamlining communications, you are ultimately giving clinicians precious time back in their lives.