Spok Go® implementation timeline
We're here to help you grow adoption, achieve business outcomes, and optimize your solutions
Our professional services experts are here to help guide your team at every step of setting up and using Spok Go. From preparing for adoption to optimization and beyond – you can trust you'll have unwavering lifetime support for your Spok solutions.
Example Spok Go implementation plan
The following timeline describes the transformative processes, activities, and deliverables that are involved in helping you achieve your clinical communication goals. The timeline may vary by customer, depending on the project scope and purchased packages.
Sprint 1
Your first 15 days

Prepare

To start, we'll focus on fundamental preparation. We'll help you:
• Create your success plan
• Review your desired outcomes and how they connect to one another
• Gather baseline measures
• Receive adoption readiness and technical readiness guides
• Set up your tenant


Sprint 2
Your first 30 days
Plan and setup

Next, we'll plan your workflow solutions and business plans, which include:
• Communication plan and materials
• Test and launch plans
• Workflow design and diagrams (clinical packages only)
• Data workshop (planning, preparation, updates)
• Training plan and materials
• Administrator training

In this sprint, we'll also set up your Spok Go environment, including:
• Escrow key setup
• SAML setup
• Gateway setup
• Integrations, if necessary, including console, nurse call, and orders/results
• Assistance with test plans
• User acceptance testing


Sprint 3
Your first 45 days
Launch

We'll guide you through the launch of your solution, including:
• User onboarding events
• Remote assistance and support through the deployment and launch to your initial users


Sprint 4
After launch
Optimize

Finally, we'll help you maximize your return on investment, including:
• Measurement and analysis of the change
• Plans to iterate as needed
• Result reporting to stakeholders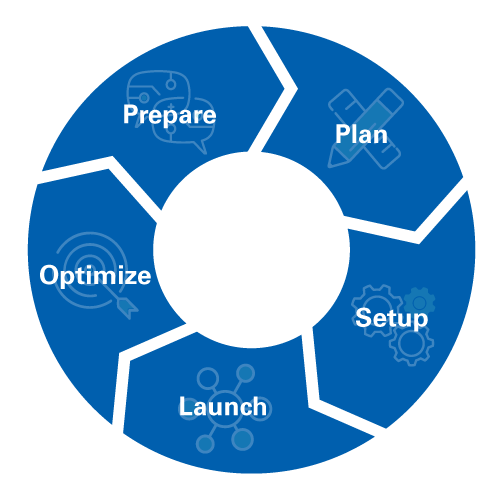 Our implementation methodology is a continuous cycle. When you finish your initial Spok Go launch, we'll be here to help you maximize your value and meet your goals.
Looking for additional help?
We provide a comprehensive portfolio of consulting services. Your organization might want further support to:
If you're looking for more comprehensive services, you'll find virtual workshop-style packages using Spok Accelerators, or higher-touch services with Spok Service Offers.
Get more information about Spok professional services
Want to learn more about Spok professional services? We can help drive transformational change in your hospital or health system.