Blog
From X-Rays to Secure Texting – 100 Years at RSNA
Next week I'm headed to Chicago to represent Spok at the 100th annual RSNA conference (Radiological Society of North America). I've personally been to one third of these conferences, and I know I'm not the only one. There's a group of people I've known for well over 30 years that I see there every year. To give a little context, RSNA is the largest radiology show in the world and attracts people from all over the globe—last year more than 50,000 people attended. Given the scale of the event, you would expect to be surrounded by a sea of unknown faces, but it's amazing that I always see people I know as they walk past Spok's booth, or I bump into them at dinner events.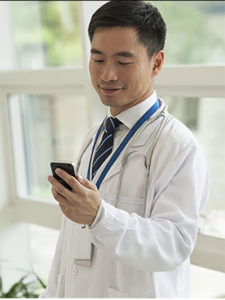 Besides just the scale of the show, it's unique in another way: the crowd is composed largely of physicians. While HIMSS and other shows attract a lot of IT folks, physicians are the primary drivers of buying decisions in the radiology space, and they come to RSNA to research the options. If you have to buy a new car, and you don't know what kind you want, you might need to go to multiple dealers to look at, learn about, and drive a few models. Imagine instead that you could see models from every manufacturer, all in one place at the same time—that's what RSNA does for the radiology community. Whether you're looking for CT or MR scanners, a new radiology information system, or a solution only remotely related to radiology, you will find it, because RSNA is the show to be at.
Spok might not sell the fancy radiology machinery, but we're becoming a sought-after booth because physicians are looking for ways to communicate securely. For the past two years, I've been hearing more and more conversations at the show about secure messaging. Easily sharing test results is important to help patients receive faster care, and texting is a common solution. However, standard texting isn't HIPAA compliant if anything identifiable about the patient is included. A number of the physicians I've talked with either know someone who's been fined for texting patient information, or are concerned about the risk. I expect to have more conversations this year about Spok Mobile, our secure texting application. I will also spend a lot of time giving demonstrations of our critical test results management solution (check out this great critical test results video if you can't make it to the booth!). Radiologists are always interested in ways to save time and make test results notifications more efficient.
Is communicating critical test results among your top priorities? What about secure texting for you and your colleagues? If you'd like to learn more or see a demonstration, stop by to visit me at booth #3104 in the South Building, Hall A.