Blog
Communicating in Dubai—At Arab Health 2015
From Murali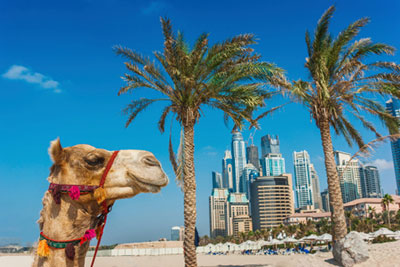 The Arab Health Exhibition and Congress is the Middle East's largest healthcare event, and one of the largest gatherings of healthcare professionals in the world. With more than 90,000 attendees and 4,000 exhibitors representing 151 nationalities, Dubai is truly the global hub of healthcare knowledge for four days each January. People come to Dubai from around the globe to share ideas for solving current challenges in healthcare. There are three main types of attendees: direct care providers like doctors, administrative representatives from healthcare facilities, and information computer technology (ICT) specialists like Spok who can help healthcare professionals find solutions.
Arab Health has grown beyond a "Middle Eastern" event to become an international exhibition because of the value of the collaboration and the caliber of conversations. Attendees talk about how to increase access to care, improve care quality and outcomes, enhance patient safety, and save time with more efficient workflows. And discussions are not just about a single unit here, or a department there, they're through the lens of an entire care delivery system, from the operating room to the laundry area to the CEO's office.
I have been attending Arab Health for over a decade and can attest to the benefits of the shared learning and knowledge exchange. I am thrilled to share the communications expertise of Spok with conference-goers. We already expect visits from customers and partners in Qatar, Turkey, Africa, UAE, Oman, Saudi Arabia, and Bangladesh. Driven by government rules and regulations throughout the region, we expect many of these visits to focus on best practices for patient safety and provider accountability toward their patients. The accountability topic centers on delivering care at the right time, and we're ready to showcase our critical communication solutions that can help hospitals achieve this goal. Beyond supporting faster care, our clinical alerting and secure texting solutions also benefit hospitals by integrating with most clinical systems already in place, reducing or eliminating the need to alter existing infrastructure. We'd love to show you how it works.
Additional Thoughts From Vinnie
I have been to Arab Health multiple times, and it is always a HUGE crowd! And it's a crowd of people who want the latest technology to enhance their hospital communications. Communication is a top priority for healthcare because every second matters. As Murali said, mobile communications and clinical alerting are very popular topics. At Spok, we work with the latest technologies that fit right into your facility. In addition to our own location, Spok will also have a presence at Welch Allyn's stand to showcase how our products integrate to deliver critical alerts and messages to doctors and nurses on their mobile devices. If you have any questions or would like to see how our solutions could work for your facility, I encourage you to stop by and say hello. Murali and I will be at the conference through Thursday, 29 January, at stand 1F53 in Hall 1.