Blog
Spok :: Who Composes the Modern Care Team?
Over the holidays, I returned to small town North Dakota to visit my parents. One of my first questions to them was to inquire about how my grandpa was doing, as his kidney function has been suffering. I learned that his most recent tests showed abnormally high levels of creatinine. "So, what does that mean?" I asked, knowing that beginning dialysis was becoming a likely possibility. "What did his doctor say?"
Well, it's a little more complicated than that," my mom explained. She went on to describe how my grandpa has his primary care physician at the nearest rural hospital, about 30 minutes away from his home. He also has a kidney specialist at the nearest health system, about one and a half hours away. Finally, he first learned of his condition from a team of specialists he saw at the Mayo Clinic in Rochester, Minn. This is not even including all of the nurses, lab techs, and other staff members who have contributed to his care. In short, the most recent lab results had to be shared among several people before a course of action could be determined.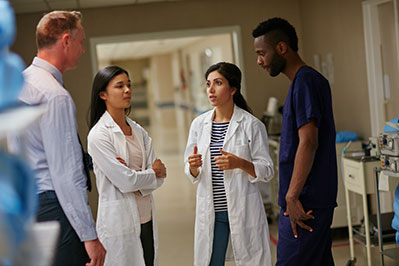 This conversation got me thinking: Which roles compose the modern care team? It certainly seems ludicrous to place responsibility on a single healthcare professional in today's complex environment. For many people, especially those with chronic conditions, their care is provided by teams whose members can span education levels, specialties, health systems, and, as in the case of my grandpa, hundreds of miles. Perhaps physicians and nurses are a given, but most care teams have expanded far beyond those who touch the EHR.
Today's care teams have grown to include physicians, nurses, lab techs, radiology techs, operating room technologists, pharmacists, physical therapists, social workers, dietitians, hospital chaplains, and obviously vital to patient-centric care models—the patients themselves. One study found that patients see an average of 17.8 healthcare professionals, defined as doctors, nurses, and allied health workers, during their hospitalization. When this is broadened to include all hospital employees, the number of people the average patient sees rises to 60.
With these large and diverse care teams, whose members are all focused in some way or another on the same patient, it's clear that traditional methods of communication may not suffice, especially in urgent situations when time is critical. Spok recognizes that healthcare communication should encompass the entire care team to drive efficiencies and improved patient outcomes. As Spok President Hemant Goel recently pointed out in an interview with HIStalk, what drives us at Spok is "Not just messaging for one stakeholder, but critical communication across the entire spectrum for all role-players."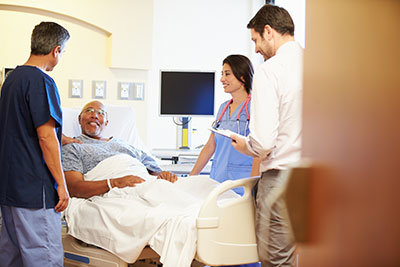 To successfully span the entire spectrum, you can't patch together different solutions that may not speak to each other in the same way. What's critical to improving efficiencies and outcomes is a single platform with directory access and the ability to exchange information with other members of the care team, as well as with the systems they rely on. This means thinking big: enterprise-level, integrated, workflow-driven, and multi-modal. We've designed Spok Care Connect® with these things in mind. Spok Care Connect integrates with existing workflows in your hospital and will enable you to deliver information quickly and securely into the hands of those who need to act on it—no matter their role, their location, or what communication device they are using.
Imagine a world in which every patient in a hospital has the peace of mind of knowing that their entire care team is sharing pertinent information about their care promptly, easily, and securely.  That's the world we are creating, one hospital at the time, at Spok.
Which roles compose your care teams, and how are you supporting growing clinical communication needs as your organization evolves? To take it a step further in honor of National Patient Safety Awareness Week, how does clinical communication factor in to your efforts to reduce harm in patient care? I'd love to hear from you—share your thoughts as comments on Facebook or LinkedIn.