Blog
What We Learned at HIMSS19: EHR 2.0, AI, Interoperability, and More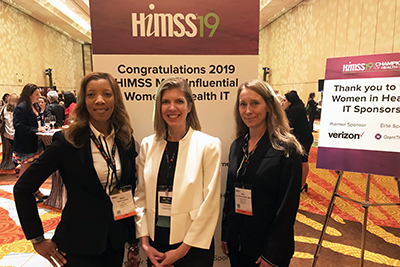 Whether you love or hate the annual HIMSS conference, there's one thing we can all agree on: A gathering of that many people seeking to change healthcare in one space results in tides of information and innovation, which gives all of us in the industry much to think about and energizes us as trailblazers in improving patient care through technology.
HIMSS19 attendance was down slightly from last year—an estimated 43,000 attendees versus 45,000 in Las Vegas—but it certainly felt as busy as ever. Not only was the exhibit hall heavily visited (admittedly, a bit lighter on Thursday as it was the last day and Valentine's Day), but there seemed to be a tipping point from hype to results in many areas.
In this blog, we'll look at the hottest topics and biggest movers and shakers at the industry's largest conference. From the trends at front and center, to those that have diminished in popularity, we hope this guide provides an overview of what you missed if you weren't in Orlando, and sparks recognition and new ideas if you were. Let's dive in.
EHR 2.0: Clinical Support Systems That Drive Action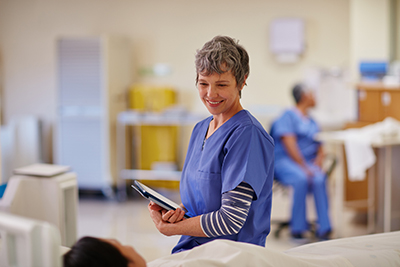 HIMSS19 certainly isn't the first show that heralded the "post-Meaningful Use" or the "post-EHR" era of healthcare, but it does seem we are (finally) approaching a transition in the generations of EHRs. The current generation of EHR systems are largely repositories of information and, if integrated into clinical workflow, often serve as mere bottlenecks of data entry instead of providing additional value to care teams. There is a tremendous need to provide physicians, nurses, and other care team members with key information to improve patient care, including real-time patient data and clinical surveillance. The next generation of health IT systems will be clinical support systems (CSS) and clinical communication platforms that interpret the needs of your specific organization, will improve administrative and clinical workflows, and will help evolve your organization into what Gartner has called real-time health system.
Real-time health systems capture, correlate, and make use of patient event data to provide the situational awareness needed to be fully real time and patient-centric. This includes information exchange and messaging to collaborate on care, but extends far beyond that to technology like workflow engines that offer flexible routing and escalation of alerts to the right person. One of the most impactful examples of this at HIMSS19 was a session on speeding sepsis recognition and response presented by University of Utah Health on Thursday. They explained that although they had data within the EHR that indicated the patient was septic; it just wasn't quickly getting to someone who could do something about it. Their previous workflow had many "maybe they will, maybe they won't" communication holes. Through a quality improvement initiative and integrating their EHR with a communication platform to proactively push alerts to the right clinicians when patients had elevated MEWS scores, University of Utah Health achieved a 20 percent reduction in mortality rate, along with also lowering length of stay and total direct costs by 10 percent. By combining data with workflow efficiencies, we can offer more actionable intelligence to our clinicians on the front lines of care, and like University of Utah Health, make a difference in patient outcomes.
Artificial Intelligence: Proactive Caring for Patients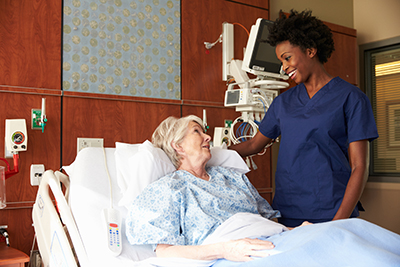 Artificial intelligence (AI) still seems brand new, yet the reality is that the field of AI has been around for decades, and the first healthcare applications for AI were developed in the 1960s and 70s. That said, what is new is the broad consensus at HIMSS19 that there is deeper learning that can and should occur. Moving beyond reactive applications, AI can now synthesize data to be proactive in caring for patients. A powerful example of this demonstrated at HIMSS19 was Sutter Health, which partnered with AI vendor Ada Health to personalize the care experience for more than 3 million current Sutter patients. By completing a brief assessment, Sutter and Ada recommend the most likely symptom causes and appropriate care options (everything from self-care to an immediate visit to the ER) to save time and avoid unnecessary costs.
AI also has potential to reduce clinician burnout by delivering relevant information to care teams when they need it, alleviating some of their extraneous cognitive load. This is a must, as it's impossible for clinicians to keep up: Medical knowledge is expected to double every 73 days by 2020, and the EHR contains over 50,000 data points. Seventy-seven percent of respondents to a recent HIMSS survey said they were already using AI to support clinical decisions, but just 44 percent said it delivered value at the bedside or point-of-care. Flagler Hospital in St. Augustine, Florida, presented a compelling session where they described how they eliminated nearly $850,000 in unnecessary costs by using AI to draw data from the EHR and present recommended care paths and timing of steps to physicians. This intelligence serves up the optimal events and sequence of care to the physician, but leaves her empowered to follow that advice (care paths can be automatically exported to the EHR) or adjust based on her experience. We expect to see the most success from models like this: the "man and machine" hybrid that augments clinical decision-making and ties AI to outcomes.
Interoperability: Full Steam Ahead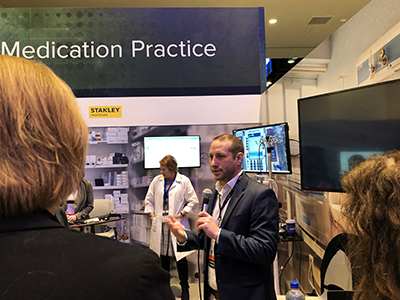 Interoperability has long been part of Spok's DNA. We've participated in the HIMSS Interoperability Showcase for more than a decade, which has given us a coveted front row seat to the action in this area. While interoperability has been a hot term for years, it was arguably the top focus of HIMSS19. Potentially aided by HHS dropping new rules meant to foster interoperability just ahead of the conference, the Showcase attracted a record 11,000+ unique visitors, up considerably from about 8.5K last year. Additionally, we noticed many more hospitals and health systems touring the Showcase in large groups together through the use cases Spok participated in (Safe Medication Practice and Enabling Cancer Moonshot), and we fielded probing questions from the "tech giants"—Apple, Amazon, Google, and Microsoft—as they attempt to understand where they might fit.
There also seems to be consensus that standardization through FHIR is key to unlocking the full potential of interoperability. A new HIMSS Media/Hyland Healthcare survey found that optimizing clinical workflows is the top goal for interoperability, but 56 percent report the inability to effectively manage unstructured data as a key obstacle. While interoperability through APIs and custom integrations can provide value, the ability to exchange information across any platform and the flexibility to easily customize to the hospital environment is the end goal we all need to be working toward together. There's an increasing expectation of every vendor to be open to providing access and also complying with emerging industry interoperability standards. For example, Spok partner Sansoro announced that they added FHIR compatibility to its robust universal API platform. "APIs and their use and the cleverness that they afford has transformed almost every major industry in the United States," ONC National Coordinator Don Rucker said in a briefing during the conference. "While healthcare is a heavily regulated, densely regulated industry, the arbitrage opportunities in healthcare are arguably vastly larger than any other sector of the economy."
Consumer-Driven Healthcare: Introducing the Virtual Patient
With increasing competition from outpatient/day surgery hospitals and walk-in or "minute" clinics, hospitals and health systems are working to evolve to the concept of a "virtual patient," which is supported by many technologies to engage with the patient on healthcare that is relevant to them at that moment, regardless of where they may be physically or within the care continuum. Technologies that support the virtual patient were on full display on the HIMSS19 show floor, including:
Digital therapeutics: Increased use and impact of digital therapeutics as both an adjunct (e.g., to enhance medication adherence) and as an alternative to traditional treatments, such as diabetes prevention programs and other models related to preventing or mitigating the impact of chronic conditions.
Virtual reality/augmented reality (VR/AR): Increased use as a routine treatment for pain control after surgery and as an adjunct for chronic pain control. A session led by Prisma Health and the Hoag Neurosciences Instituterevealed that using VR could do double duty by both managing chronic pain and offering a greater understanding of complex procedures by offering "3-D fly through" tours of their own brains before surgery.
Voice assistants: Broader use of voice recognition and intelligent assistants to reduce clinician burden, including applications of consumer assistants like Alexa and Siri, but also those unique to healthcare such as Ambient Clinical Intelligence introduced by Nuance and voice bots from Orion Labs.
Wearables: Wearables and implantable health devices to enable more routine detection of chronic conditions and monitor treatment effectiveness. With one in 10 American adults expected to have a smartwatch in 2019, and with the biggest segment being those over 55 (8 million), there is tremendous potential for healthcare applications.
Patient communication: It's been understood for a while that patients should be empowered as active members of the care team; the only debate has been around how to best accomplish that. Several vendors on the exhibit floor were demonstrating technology that goes beyond a simple patient portal to educate patients and their families. One example that stood out to us was the Healthtrax whiteboard from IWT Health, which replaces the dry-erase whiteboard in patient rooms with a dynamic one that pulls in data and can be shared across web-enabled devices.
Cloud Bound: Healthcare's Collective Transition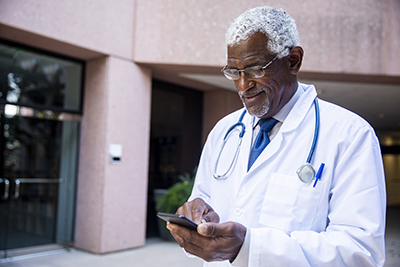 In our summary of takeaways from HIMSS18, we noted that former Google CEO Eric Schmidt declared healthcare's move to the cloud as an imperative: "run to the cloud, don't walk." It seems the industry is taking that declaration to heart. Cloud vendors, including Spok partner Amazon Web Services, Google, IBM, and Microsoft, had large booths on the floor that were constantly busy. This was reinforced by a focus group Spok leaders conducted via CHIME on Thursday during the conference: All agreed that there are myriad benefits to healthcare systems in the cloud, and all but one participant said they were fully comfortable if a vendor only offers solutions in the cloud.
That said, there are still ongoing conversations about data security, disaster recovery, and IT leader control of data in the cloud. The focus group also discussed that there are key differences in definitions among lifting data and hosting in the cloud, and transitioning to cloud-native systems such as the new cloud-native Spok Care Connect. As Spok CEO Vince Kelly told HealthLeaders Media during the conference, "Cloud-native communication not only streamlines clinical workflows and helps care teams better collaborate on patient care, but it's also easier for IT professionals to manage platforms in the cloud, rather than multiple disparate systems. Partnering with companies like Amazon Web Services allows for a highly secure and dynamically scalable platform that encourages faster innovation."
Trends That Didn't Receive Much Play at HIMSS19: Population Health, Big Data, and Cybersecurity
In addition to these industry trends on the forefront of HIMSS19, there were also some topics noticeably missing from the conversation, or at least downplayed in comparison to the height of their hype in previous years.
Population Health: For the past few years, it was difficult to walk by a cluster of booths that didn't specifically call out population health on their messaging. It was a huge buzzword, yet at HIMSS19, we didn't see or hear much about new technologies focusing on population health. This could be signaling a new design coming out of CMS focused on consumer-driven healthcare.
Big Data: Another phrase that used to be on the tip of everyone's tongue, but expectations have been lowered considerably over the past couple of years, especially with the tremendous investment in technologies like IBM Watson that so far, have struggled to show significant return for its hospital and health system customers.
Cybersecurity: Cybersecurity was a top topic in 2018, and it has not diminished in importance: Healthcare leaders are still grappling with how to best protect their data, and are spending increasingly larger amounts on doing that. However, it is a lot less about sexy new tools and more about how to best leverage what you have to maintain the status quo and prevent your organization's name from ending up on the "Wall of Shame" or in the community media for a breach, so it wasn't frequently mentioned on the exhibit floor.
See You Back in Orlando for HIMSS20!
We hope these insights provided you with a comprehensive overview of the most buzzworthy topics at HIMSS19. As always, there is much work to be done, and events like HIMSS just add fuel to our fire to get to work and make a difference. HIMSS is in March instead of February next year, so we have about 13 months until we're all together again in Orlando—let's make them count.