Blog
What We Learned at HIMSS16: Top 10 Takeaways
Another HIMSS is in the books! It was my twelfth HIMSS overall and my eighth with Spok. Each year gets bigger and better, and the entire team comes back with learnings that help drive our plans throughout the year. Here are our top 10 takeaways from HIMSS16 in Las Vegas: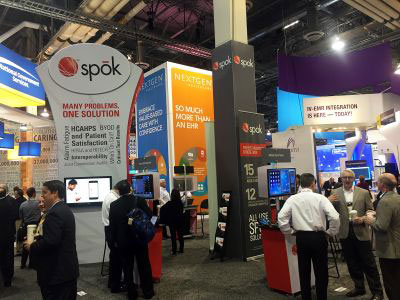 1. Population health, big data, and analytics were once again hot topics, but for the first time it seemed understood that all three go hand-in-hand. Data
management is required for population health to succeed, and that was perpetuated on the show floor this year. All of the major electronic medical record (EMR) vendors were touting population health, personalized medicine, and analytics features. Population health was more of a buzzword only at HIMSS15, so it was refreshing to see many more practical tools and provider case studies within this segment this year.
2. Interoperability gains momentum. Interoperability has been a hot HIMSS topic for the last several years, but it's making bigger strides these days. The U.S. Department of Health and Human Services (HHS) led the interoperability buzz this year. HHS secretary Sylvia Burwell announced major commitments from the healthcare industry in the HIMSS opening keynote to make EMRs work better for patients and providers alike. The tenets of this initiative include improved consumer access to their records, no information blocking, and implementing federally recognized national interoperability standards and practices. Interoperability was also a key point of interest for Spok customers and prospective customers, with many attendees positively commenting on our device-agnostic, EMR-agnostic approach.
3. Vendor consolidation continues in a big way. IBM's Watson™ Health business unit acquired Merge Healthcare in the fall of 2015, and Truven Healthcare Analytics just a few weeks ago. With these acquisitions, it's clear that IBM Watson Health is leading healthcare's Big Data arms race, which is particularly striking since it's only been two years since the business unit's formation. Cerner acquired Siemens Health Services just shortly before HIMSS15, so HIMSS16 was the first true picture of how Cerner is integrating Siemens' assets into its messaging and solutions.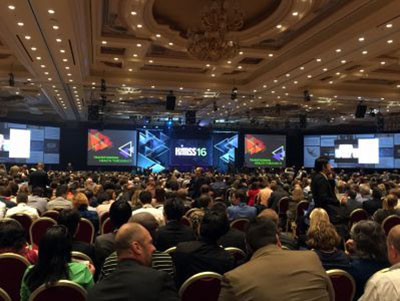 4. EMR optimization is the new EMR implementation. Most hospitals and health systems have their EMR systems fully implemented and running pretty smoothly at this point, so they're now looking to EMR optimization—how they can grow the return on that tremendous investment. Spok was located across from the largest EMR vendor this year, and we saw how they're growing their system to collect more types of higher quality data. Spok is focused on the EMR integration story as well and had many good discussions in our booth on this topic. Our solutions support workflows that tie to the EMR, such as critical test results management that inserts findings into the EMR with the acknowledgement that the ordering physician has reviewed that result.
5. The international presence was markedly larger. We remember when the HIMSS conference was just a few hundred exhibitors and a few thousand attendees, so it's been fantastic to see the momentous growth of the conference, especially over the last decade. A significant part of this growth has been international providers and vendors. We saw this in our own booth this year as we chatted with people from many countries, and the bilingual members of our team were constantly engaged. The Sands Expo Convention Center was truly a global marketplace this year, and it's great to have partners in improving care from all corners of the globe since so many challenges, especially within healthcare communications, are universal.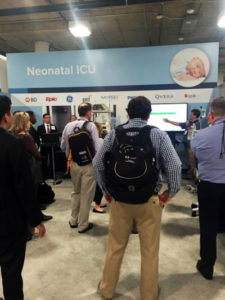 6. You can't beat seeing workflows in action. The HIMSS Interoperability Showcase is
so impressive because it shows how solutions work in real-life workflows, and that kind of storytelling really makes those scenarios come alive and drives home the importance of what Spok and other health IT companies do. This year Spok participated in the neonatal ICU use case, which demonstrated how patient monitoring, clinical alerting, nurse call, and telemetry work together to provide efficient, safe care to a sick infant.
7. It was Spok's biggest and busiest HIMSS to date. Although overall attendance for the show was down slightly from last year, the quantity and quality of our visits was unmatched with many in-depth discussions with C-suite leaders. Many of our scheduled meetings ran long because our customers and prospective customers were so enthusiastic about how we could work together to improve critical communications throughout their organizations.
8. Spok Care Connect® was incredibly well received. HIMSS16 was one of the first events where our integrated Spok Care Connect platform was on full display. This unified approach to healthcare communications really resonated with the attendees we spoke with, especially CIOs and CMIOs. Critical communication has achieved true "infrastructure" status. CIOs and CMIOs were at the Spok booth throughout the week. We spent a lot of time discussing the strategy and functional details of critical communications like mobile messaging and alerting.
9. The Spok brand is about to become more widely recognized than its legacy brands ever were. It's easy to forget that the Spok brand was born just a year and a half ago. Spok has really hit its stride and is readily recognized as a healthcare communications leader by customers and the wider healthcare market alike.
10. HIMSS is a long week, but so worth it. OK, so this really isn't news to us after having attended for so many years, but you always still manage to forget how tiring HIMSS is, especially in Las Vegas where long days bleed into long nights. Your shoes are never comfortable enough and the lines at Starbucks are never short enough. But as large as the show is in every way, it also reminds you how tightknit the health IT community is. It's so nice to see people you've known in the industry for a decade and to bear witness to how they and their companies have grown over the years. The days can extend into 18 hours, but they're so mentally energizing and have us even more excited for the year ahead as we transform health IT together.