Blog
The Voice of the Nurse Leader in Technology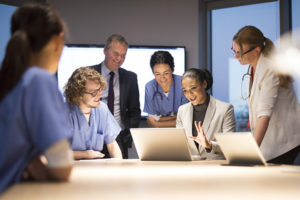 Editor's Note: This article was previously published in LinkedIn's Hard Cases series, where doctors and medical professionals share the toughest challenges they've faced in their careers. You can read more about it here and follow along using hashtag #HardCases.
In my role as a chief nursing officer in the technology field, I have the pleasure of meeting with C-suite leaders (chief information officers, chief medical information officers, chief operating officers, chief nursing officers) at various healthcare organizations across the United States. Many of the meetings are strategically focused on technology operations and solution implementations, however, I am shocked when nurse leaders are not at the table. In these moments, I will ask the technology leaders, "why are the nurse leaders not involved in the meeting"? The answer: "We just want to discuss the product, we will bring them in when we are talking about clinical workflow."
Nurses, the most trusted professionals, the largest body of healthcare professionals across the United States, must always be at the table. Not only should they be at the table, but nurses must be represented during each and every conversation regarding technology. Representing the patient and the nurse's voice, viewpoint, and experiences are essential to how organizations make decisions and purchases regarding technology.
My decision to serve as a Nurse Leader in the technology field was to be the voice of nursing, to represent our voice as we build technology solutions incorporating clinical workflows, which will make the nurse's job easier, and ensure quality patient care. Recently, I had the pleasure of working with the leaders of a healthcare system who provided mobile devices for each nurse. It was refreshing to see the Chief Nurse Officer, Chief Nurse Informatics Officer, Chief Technology Officer, and Chief Information Officer at the table developing a mobile strategy focused on the selection of devices, incorporating the device into nurse workflows, and device maintenance and accountability. This partnership, led by the Chief Nurse Officer, helped with greater adoption by the nursing staff as well as an increase in their desired patient outcomes.
My goal is to advocate for the voice and presence of nursing in all technology-related activities from planning to optimization within healthcare organizations, to serve as a translator between technology and clinicians, as well as to encourage fellow nurses and nurse leaders to get involved often and early with technology design from the vendor side through the healthcare continuum. Clinicians often have issues with the way in which technology was and is being developed; despite the millions of dollars in investment, many clinicians are not happy with technology solutions and I am reminded of the famous quote by Mahatma Gandhi, "Be the change you want to see in the world."
This year, I challenge you to complete at least one of the following:
Start and lead a nursing technology council that will be responsible for approving and implementing a new technology innovation to improve patient care
Publish your innovative technology
Invite a Chief Nurse Officer, Director of Nursing, and Nurse Manager to every information technology (IT) meeting for the year
Get involved with your technology vendors by: being on their board, being a part of their nurse or customer advisory council, becoming a development partner
Attend one technology-related conference this year; HIMSS, ANIA
Start and lead a CIO, CMIO, CNIO (triad) council, develop a charter and at least one goal to improve nurse efficiency
Over 20 nurses have joined the conversation on this topic on LinkedIn—check it out there to add your voice!