Blog
Spok Execs Muse on What's in Store for 2016
Beginning a new year is always a good opportunity to reflect on the past year and anticipate what is to come. We gathered insights from six Spok leaders to get their takes on what they see for Spok and the healthcare industry at large in the next 365 days and change.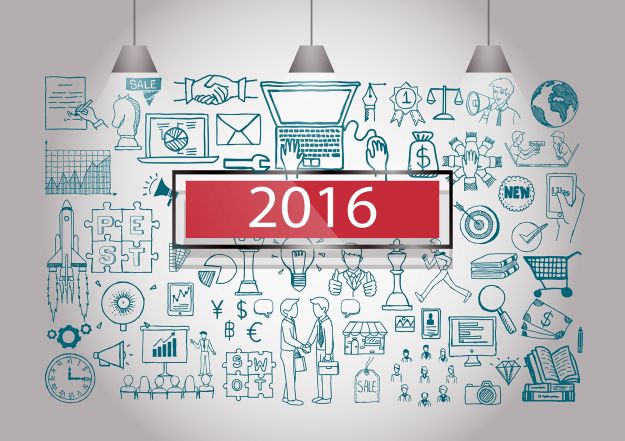 What 2015 healthcare trend do you think will continue in 2016?
VINCE: I believe we will continue to see a strong move toward eHealth initiatives and integration. Our customers are dealing with a rapid pace of technological change and innovation. The drive to provide better outcomes and more efficient healthcare will continue. Spok is uniquely positioned at the center of this trend in our ability to integrate and communicate vast amounts of information to make sure the right people stay informed at all times! Mobile and data analytics expertise will be important to this future.
DONNA S.: There are several, but I think the biggest two are 1) consumerism, and 2) the shift from deployment of healthcare technology to interoperability and optimization. The consumer requirement to pay more and more of the price tag for healthcare will mean growing interest and advocacy in care pricing, quality measures, and convenience. And that, in turn, will lead providers and payers to explore better tools to offer price/quality transparency and put more focus on health literacy initiatives. Of course, the interoperability challenge will be a large nut to crack, but there is progress, and I am encouraged that the dialogue has moved in that direction. Also, I am seeing hospitals thinking less about information documentation and more about how to communicate the information across care teams, across geographies, and across the healthcare system.
BRIAN: I expect that organizations will continue to explore ways to improve communication in 2016. Many organizations have made significant investments in EHR systems and medical devices over the past few years and are looking for ways to connect those systems to the caregivers who need time-critical information from them.
MICHAEL: The healthcare industry will continue to consolidate. As a result of the Affordable Care Act (ACA), hospitals, systems, payers, and physician groups will continue to merge to be more financially stable by the end of 2016. Reimbursement models tied to outcomes vs. services will require better coordination among care teams, creating a need for further investment in enterprise communications solutions.
DONNA R.: I see care team collaboration and integrating devices into care delivery processes as a continued trend. Enabling care teams to stay on the same page about a patient's care, track progress, and positively impact patient safety and outcomes is critical to success for hospitals today. There is also increased demand for the consumerization of healthcare software. Clinicians are demanding "easy to use" software and will not accept software unless it was created for their specific clinical workflow.
MATHILDE: We have seen our customers become more focused on process and workflows. This is partly due to consolidation, as mergers and acquisitions are opportunities to review efficiencies. There is an increased need for healthcare organizations to make sure their vendors help them meet higher uptime standards, deliver faster support, and understand the holistic view of their entire communication infrastructure, and this trend will continue in 2016 and beyond.
What makes you most excited for Spok in 2016?
VINCE: I am excited and encouraged by our strategy to make greater investments in our healthcare platform, Spok Care Connect®. We plan to increase our development resources and capabilities in order to expand the integration and functionality of our solutions. I am also excited that we are planning to hire some key clinical positions to round out our employee strengths in healthcare technology. We see this as critical to supplement and support our strategy and solution development as we need to skate to where the puck is going, not where it is right now.
DONNA S.: It's an exciting time to be in a business that is truly enabling better patient care and helping hospital staff to be more productive. I love seeing our solutions in action in hospitals, helping care teams communicate better. As I look toward 2016, I am especially pleased about the level of additional investment that Spok will be making in our healthcare solutions and clinical expertise. We have a unique opportunity to provide our customers with a complete platform for communications that is integrated with their existing environment and able to support their workflows.
BRIAN: I'm really excited for the six regional conferences we will be doing in 2016. I like to say that our user conference "Connect" is the best week of the year. But, next year there will be six best weeks of the year. These events are a great way for Spok and our customers to discuss common goals and map out where we're headed over the next year or so.
MICHAEL: 2016 will be a year of transition for hospitals as they move to adapt supporting technologies beside and with the EMR to improve outcomes. I'm excited that the end-to-end enterprise platform that Spok offers is unique and can become the central communications platform for healthcare.
DONNA R.: Spok is well positioned to help our customers with unified communications in new and exciting ways in 2016. Regardless of an employee's responsibility within an organization, Spok's technology can improve communication workflows. Whether by improving safety, creating workflow efficiencies, or adding flexibility to provide critical communications across many device options, the Spok platform can help.
MATHILDE: Spok is investing more in our solutions, and our support and operations teams are responsible for delivering these solutions to our customers. These Spok solutions will help our customers create stronger and better communication infrastructures that can serve care providers and enable them to respond faster to patient care requirements. The anticipation to see this unfold is very exciting!
What is your resolution for the new year?
VINCE: I have resolved to continue my education in solutions development and healthcare. I am doing this in several ways, including reading and interacting with our customers and professional advisors, as well as attending industry events. I recently read "The Digital Doctor" by Robert Wachter, which deals with the current state of healthcare and future trends. I also read "The Phoenix Project," which deals with best practices in DevOps and how you can take that and make it a differentiator for your company.
DONNA S.: I don't make resolutions because I don't have a good track record of keeping them! But I am planning for some international travel in 2016, which is very important to help me broaden my perspectives and learn more about other cultures. I look forward to it!
BRIAN: We're all busy with our work and personal lives, and gadgets make it easier to be connected with those not near us. My resolution for 2016 is to be more present in the moment, in the room with those who are with me.
MICHAEL: I plan to evolve the messaging and processes used by our Sales team, exercise more, and finish learning how to play guitar!
DONNA R.: My resolution is for our sales team to collaborate and consult with 300 new organizations in 2016. Today, thousands of organizations already rely on Spok for workflow improvement. My hope is that we can help many more organizations by solving workflow challenges in the coming year! I also plan to focus on fitness and personal health in 2016 using my Apple Watch to help me meet my goals!
MATHILDE: Ultimately, I want to deliver support that surpasses our customers' expectations of how a vendor should enable them to meet the ongoing changes in healthcare. On a personal level, I want to connect more with friends and family, and have several trips planned to do just that!
How would you answer these questions? What are you most excited about for 2016, or what trends do you expect to play a larger role? Share your responses on our Facebook or LinkedIn page.