Blog
The Spectrum of Healthcare in Latin America
I recently returned from Sao Paulo, Brazil, where two of my Spok colleagues and I attended Hospitalar, billed as "the most important healthcare fair for the Latin American market." It was an important trip for Spok—our presence in Sao Paulo and at the tradeshow gave us a greater understanding of the state of healthcare in Latin America.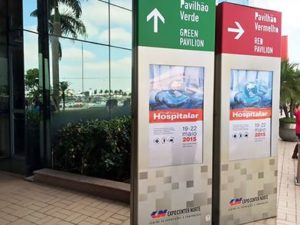 One of the hospitals we spoke with was a very impressive organization in the west zone of Sao Paulo. It was among the first few health institutions outside the U.S. to be certified by Joint Commission International (JCI)and is one of the most technologically advanced hospitals in the world. It boasts state-of-the-art protocols, procedures, and equipment, including the Da Vinci surgical system and the first True Beam linear accelerator in South America for radiotherapy techniques. The hospital's doctors and nurses are in constant communication thanks to a unified communication infrastructure and wireless IP phones.
We also visited with other hospitals in Sao Paulo, a metropolitan area of 20 million people, and discovered that the first organization we spoke with is an outlier in the most extreme sense of the word. Most hospitals in Sao Paulo are working on updating their technology infrastructures. For example, many are just beginning to invest in an electronic medical record (EMR) system, and the concept of clinical mobility doesn't really exist yet. Patient monitoring alerts are sometimes sent to a central nursing station, but in most facilities the alarms still just beep and buzz within the patient's room. Wi-Fi coverage is spotty, and mobile phone usage is low for patient care conversations.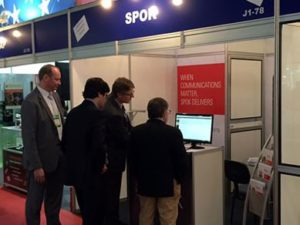 It's clear that hospitals throughout Brazil, and in Latin America more generally, have tremendous opportunity to use technology to improve clinician communication, and consequently, patient care. It's a challenge the healthcare professionals we spoke with are resolved to tackle—they know it's an important goal that will have a great effect on care delivery. We had a lot of great conversations with healthcare professionals who really understood the benefits Spok delivers and who were excited by the potential of bringing our communication solutions to their facilities in the coming years.
We know it's the right time for us to help Latin American hospitals bring critical communications to the forefront with the help of our partners. Slowly but surely, the majority of hospitals in Sao Paulo will work their way up to embracing the latest communication options.
Are you interested in partnering with Spok in Latin America? Is your hospital looking at adding technology to help doctors and nurses be more connected to patients and each other with faster communications? Write to us with your questions, or leave us a comment on Facebook or LinkedIn.