Blog
Software to the Rescue – Clinical Alerts and Alarm Fatigue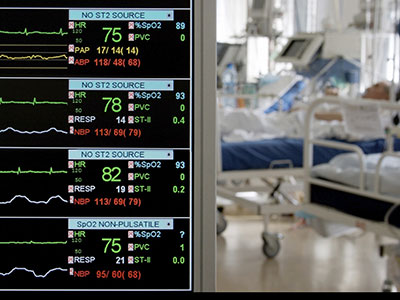 I've been answering a lot of questions lately for hospitals looking to reduce alarm fatigue and add some automation around their patient monitoring alerts. So, it seemed like a good issue to expand into a blog post. I also recently saw this topic cited as number 3 on the ECRI Institute's 2015 list of 10 health technologies for C-suiters to watch.
First, I want to clarify Spok's position in the solution framework. Like Hemant Goel mentioned in his blog two weeks ago, Spok usually sits in the connecting position, often behind the scenes where we're not visible. Yet, we are vital to making sure communications get where they need to go. Our software serves many different functions for workflows throughout a hospital, but the primary solution I wanted to focus on here is how we help route clinical alerts from patient monitoring devices directly to caregivers on their mobile devices. Part of the reason this is a hot topic is because hospitals are trying to reduce alarm fatigue.
Patient care and monitoring devices such as pulse oximeters, ventilators, heart monitors, nurse call systems, and infusion pumps can provide critical warning when a patient's condition changes. And when alarms from these systems work well, patient care and safety are enhanced. However, so many alerts are produced every day that nurses and other caregivers can easily become desensitized. You may have seen the statistic that Johns Hopkins Hospital identified a daily average of 350 alarms per bed – and for some alarm types, up to 90 percent were false alarms.[1] With so many cries for wolf, providers can easily become desensitized, commonly referred to as alarm fatigue. The risk from alarm fatigue is that valid alarms may be missed or disabled, leading to unnecessary complications and even patient death.[2] Managing alarms from the variety of care and monitoring systems used today can be a challenging task. Spok can help.
One of the first major steps, identified in that same report about Johns Hopkins Hospital, is to establish actionable parameters for alarm limits and thresholds and reduce the number of false alerts. Alarm limits are usually configured by unit, based on the type of care (for example, the adult ICU vs. NICU). Individual patient monitors are programmed to initiate an alarm based on those thresholds. They identify if alarms are a low, medium, or high severity and also indicate the color of the alarms (green, yellow or red), as well as the sound the monitor and the central station will emit. For example, configurations for telemetry monitors can set the precise beats per minute (on both the high and low ends of the acceptable range) at which the monitor sounds an alarm to alert providers.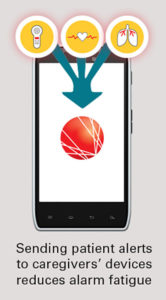 The next step is where Spok comes in, to act as the connector in the middle and make sure that actionable alarms are delivered quickly to the provider who needs to take action. When an alarm is received by Spok's solution, the parameters of the alarm (bed number, alarm severity, keywords, etc.) trigger an event. The event includes details such as the message text, escalation steps, time between escalation steps, color of the message on the display, and even the alert ring tone. Once triggered, a message is sent to the appropriate caregivers for them to accept it, escalate it, or call back. Call-backs would be routed through the facility's nurse call solution; the nurse call can also be one of the data sources for pulling information about which provider is responsible for that patient based on staff assignments. Alerts can be delivered to pagers, smartphones, Wi-Fi phones, tablets, etc. to reach mobile providers wherever they are. Spok's solution is flexible and allows each hospital to determine the appropriate alarm routing and configuration steps, based on that institution's specific procedures and workflows.
I hope this helps clarify what Spok's clinical alerting solution is and where it fits into the overall notification workflow. It is important to understand that every system, from the hardware of the monitors, to the nurse call system and the connector in the middle (that's us), plays an important role in the overall solution, and that the correct configuration of each one is crucial to ensure the overall solution works effectively.
What's your experience with clinical alerting? Do you have any initiatives around National Patient Safety Goal 06.01.01,[3] to improve the safety of clinical alarm systems? Would you like to learn more about how Spok can help? You can write to us at inforequest@spok.com.
And if you're looking for ideas, we also have several case studies you might be interested in: St. Vincent's Hospital in Melbourne, Australia, needed to address alarm fatigue, and UPMC Pinnacle in Harrisburg, Pa., wanted to channel alerts and alarms from patient care systems to staff on mobile devices, as well as improve bed management coordination.
[1] http://www.hopkinsmedicine.org/news/media/releases/actionable_alarm_or_crying_wolf_johns_hopkins_safety_team_honored_for_reducing_clinical_alarms
[2] http://www.washingtonpost.com/sf/feature/wp/2013/07/07/too-much-noise-from-hospital-alarms-poses-risk-for-patients/
[3] http://www.jointcommission.org/assets/1/6/2015_NPSG_HAP.pdf
Topic: Alarm fatigue