Blog
Secure Texting's Evolution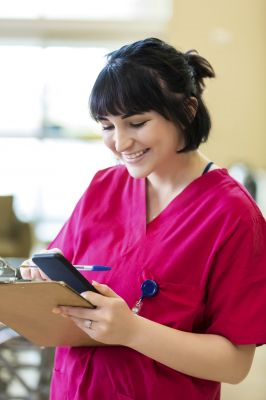 designed for healthcare is just seven years old. Some of us have canned goods in the pantry that are older than that! But in its relatively young life, secure text messaging has already undergone some major transitions. Spok Mobile® was originally developed as a way for clinicians to receive pages on their smartphones. It still does that today, but what's even more useful is what else it does now: It integrates with your organization's central directory, so users can securely send PHI, images, and video to a variety of mobile devices (smartphones, tablets, Wi-Fi phones, pagers). It can access on-call schedules to reach the right individual or role. It logs all communications in an audit trail. It can also deliver critical test results from the electronic health record (EHR), laboratory information systems (LIS), or the radiology information systems (RIS) to the ordering physician's preferred mobile device. And the list goes on.
As much as Spok Mobile can accomplish today, we're still continuously working to refine the solution and make it more valuable to clinicians in their daily workflows. And there's a new person at Spok heading up that mission: Bridget Wahlstrom joined Spok earlier this year as Senior Product Manager for Mobile. In the Q&A below you can learn more about her and how she and her team are changing the secure messaging game.
What professional experience do you bring to Spok?
I have a pretty unique background of support, implementation, product management, and process improvement. Before joining the Spok team, I spent 14 years at PeopleNet, a leading provider of mobility technology for the trucking industry. While working at PeopleNet, I had the opportunity to learn all aspects of the business from the ground up, including support, field training, project management, and product management, where I was responsible for numerous products within the enterprise solution across web, business intelligence, and mobile platforms. I worked closely with the market to understand their latest needs on our mobile solution and with our user experience team to present a friendlier look and feel. In my last role, I led a team of technical product managers and scrum masters in the transformation to a more agile organization and product delivery process.
Healthcare is a bit of a departure from fleet management. Why the switch?
After 14 years in fleet management, I was ready for a new challenge and a new opportunity. I had my eye on healthcare—it's always been a field I've wanted to explore because I saw how mobility could enable a transformation of care delivery. After learning about the opportunity at Spok and meeting the team, I knew this was the opportunity I was looking for to use my mobility background in a new way. Spok has a compelling story and a great opportunity for ongoing growth within healthcare communications.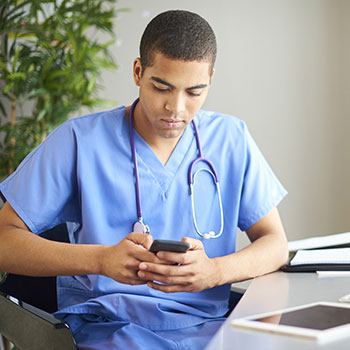 What's your approach to product management?
I like to marry the problems customers are facing with the company's vision, then ask "How can we solve these problems with our product to fulfill that vision?" It's a little bit like balancing the present with the future. I take the pulse of what's happening by listening to our customer user groups and the customers I interact with one-on-one. I'm definitely one to ask a lot "why" questions to get to the root problem that we're partnering with them to solve. I also evaluate the consumer market and other industries to see what innovations are occurring there that we might not be thinking about in healthcare yet. I like to see where technology is heading.
What's next for Spok Mobile?
We're focused on enhancing and streamlining the care team experience with Spok Mobile. Our end goal is to become the secure communications platform of choice for healthcare. With the addition of clinical executive leadership, our new CMO and CNO, we're able to get more end-user feedback than ever before on the future of the product—we constantly have designs and mockups in front of doctors and nurses so they're helping shape how the product works. Fully integrating the customer into the feedback loop and actively testing what works in real-world scenarios is key to developing secure messaging's next iteration.