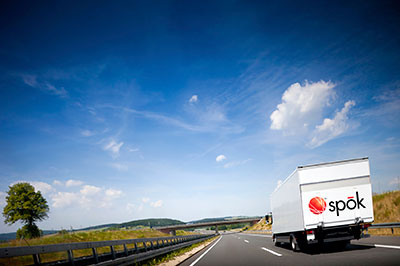 While Spok conducts a great deal of business over the phone, via email, and through virtual conferencing, there's nothing quite like meeting with customers and prospective customers face-to-face. We frequently make trips to visit hospitals, health systems, and other sites, but we are also on the road a lot for tradeshows and exhibits—we'll attend more than 40 in 2015, which means on average we visit a different city, and sometimes country, nearly every week! While all that travel and time zone hopping can be tiresome, we wouldn't trade our interactions at tradeshows and exhibits for anything.
First, there's the invaluable in-person interaction with both our current and prospective customers. Being in the same place means we can demonstrate our solutions for an individual or for a group and immediately get their feedback and thoughts. When half of a message's total impact is from nonverbal language, it's wonderful to be able to hear their comments first hand, see the lightbulbs go off in the eyes of those listening, and hear the excitement in their voices talking about the potential benefits for their organization.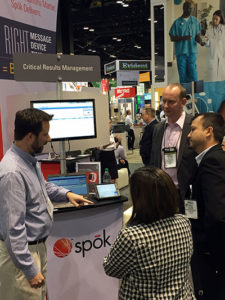 Tradeshows and exhibits also allow us the opportunity to brush up on our industry knowledge. Besides the conversations we have with attendees on the floor, most events include education in the form of keynotes, panels, concurrent sessions, networking events, and more. Whenever we send members of the team to a show, they're never there for just the exhibit hall hours. They learn everything they can and bring new insights and ideas back to Spok. The better we understand the current industry environment and the needs of those we serve, the better we can deliver solutions that are right on target.
Some of the big events we're looking forward to in healthcare include HealthAchieve 2015 and the annual meeting of the Radiological Society of North America (RSNA). On the public safety side, we are excited for the summer shows, including the National Emergency Number Association (NENA) Annual Conference, the International Associations of Campus Law Enforcement (IACLEA), and the Association of Public Safety Communications Officials (APCO). We are a global company and have more 2015 international shows in the lineup as well, including HIC 2015 in Australia and the Health and Care Innovation Expo 2015 in the U.K.
You can always see an up-to-date list of our planned events at spok.wpengine.com/tradeshows. Are we going to be in or near your city soon? Be sure to let us know—we'd love to see you.