Blog
The Power of Communications Analytics: Riverside Health System + Spok
"If you can't measure it, you can't manage it."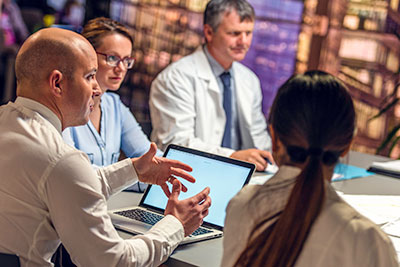 This maxim is commonly attributed to management guru Peter Drucker, but it turns out he never actually said it. In fact, his actual view is a little more nuanced: Measurement, yes. Only measurement, no.
According to the Drucker Institute, Drucker "certainly did believe that measuring results and performance is crucial to an organization's effectiveness," but he also believed that it was important to have a deep, personal understanding of your fellow humans around you.
At Spok, we believe the former can help inform the latter. We'll discuss these two topics—the importance of measurement and how measuring performance can improve the experience of patients and caregivers—in a HIMSS Clinical & Business Intelligence Community webinar next week.
I'll be presenting "Unlocking the Hidden Power of Communications Analytics" alongside my colleague Jason Stanaland, mobility solution expert at Spok, and Jared Stanger, Lean Six Sigma Black Belt and business process manager at Riverside Health System. Together, we'll discuss the measurable value of an enterprise healthcare communications platform, and the impact communication has on clinical collaboration and patient satisfaction.
Communication is the singular thread that ties a health system together. But for many organizations, evaluation of communication processes is often not a part of operations management and process improvement. Riverside Health System is a powerful example of the positive results that can be achieved if communication undergoes the same systematic review for process improvements. By improving communication, Riverside has seen improved employee satisfaction and productivity where they've trialed. They've also focused on improving patient satisfaction by using communication technology to respond more quickly to patient requests.
Jared, Jason, and I will identify the opportunities and challenges associated with monitoring and measuring the outcome of communication processes in everyday workflows. Jared will also demonstrate his Lean Six Sigma Black Belt skills and review specific methods to incorporate communication analytics using a Lean Six Sigma approach. He'll give examples of improvement projects at Riverside Health System that were enabled by communication analytics.
The discussion will include:
The importance of communications data and analytics in health system process improvement
The value and challenges of interpreting communications data
The Lean Six Sigma approaches that can be incorporated into communications analytics
How communications analytics can be applied to health system initiatives for clinical, operational, and patient satisfaction projects
By now, hopefully your curiosity is piqued:  Join us on Thursday, April 27, at 1 p.m. Eastern, and dive into the hot topic of healthcare analytics. You can ask your specific questions in the Q&A session that will follow the presentation!