Blog
NHIT Week: Transforming Healthcare Together | Spok
This week is National Health IT (NHIT) Week, designed to serve as "a collaborative forum and virtual awareness week that assembles key healthcare constituents dedicated to working together to elevate the necessity of advancing health through the best use of information technology." In other words, it's about transforming healthcare delivery together.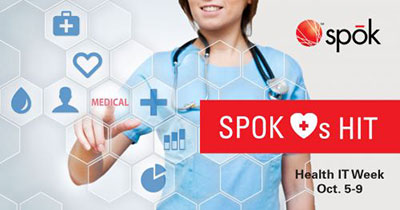 NHIT Week is just five days, and no one would argue that we can transform health in that short amount of time. Transforming health is more of a goal that never ends, but every step we take is a step toward realizing the full potential of health IT to improve access to quality care and achieve better health outcomes. NHIT Week serves as an excellent reminder that we all need to work together for the collective cause.
NHIT Week is partner-driven, and in many ways, so is Spok. We don't operate in a vacuum—we proactively reach out to others to collaborate to protect the health, well-being, and safety of people around the globe.
One of our new partners is also a sponsor of NHIT Week: The College of Healthcare Information Management Executives (CHIME). We became an affiliate subscriber with CHIME this year to collaborate with the organization and its IT leader members. One of our first efforts together will be an educational webinar on Nov. 10. Jim Murry, CIO of Stony Brook Medicine, will share how Stony Brook is preparing for the future by making the move to mobile. I hope you can join us.
There are many organizations with whom we've had long and successful partnerships through the years—Spok has 50+ channel partners and more than a dozen technology partners. Spok, along with our partners in nurse call, patient monitoring, security, and other strategic integration areas, works closely with key hospital leaders to deliver critical software solutions to our many healthcare customers.
We rely on these partners to help better engage doctors and nurses in more efficient clinical workflow solutions, alarm management and critical messaging solutions, and patient safety and call center interactions to transform healthcare and help save lives.  We're proud to work closely with so many organizations dedicated to advancing health with technology toward the goal of better patient care.
Who are your strategic partners in transforming care delivery? If you're interested in becoming a partner with Spok, please get in touch with me.