Blog
The New Resident: How Millennial Physicians Are Changing Medicine
I woke up this morning from the alarm sounding on my smartphone. I reached over to turn the alarm off, then surfed some news and social media, noticed the weather, reviewed my sleep patterns, meditated with an app, checked my calendar, and answered a few messages.
This is how many of us wake up in our homes these days—surrounded by technology.
More and more, patients are waking up at hospitals surrounded by technology as well.
The Forces Disrupting and Driving Healthcare IT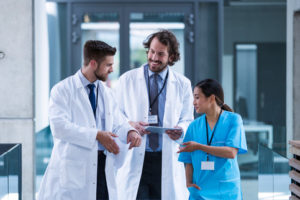 Clinical and IT groups are working together at hospitals around the world to provide the latest technology to end users. There are many challenges that slow this progress, such as budget, culture, wireless infrastructure issues, security concerns, regulations, outdated policies, and education gaps. A recent Spok survey found that infrastructure and security were the primary challenges preventing adoption of BYOD programs.
However, despite inherent challenges, the drivers are winning out and hospitals are seeing an increase in technology spending. Credentialing, compliance, consolidations, competition, value-based care models, and other forms of government funding are all driving hospitals to invest in disruptive technology.
The biggest drivers of technology spending in healthcare in 2018 are value-based care initiatives (61 percent), patient engagement and care management (58 percent), and enterprise digital transformation (47 percent). But there's another one built right into the hospital itself: hospital employees. Today's doctors, nurses, and staff not only benefit from new technology, but also outwardly demand it—and no group is more of a driver than the incoming residents.
The [Millennial] Doctor Is In
This "new resident" is an intelligent, tech-savvy millennial who comes to the hospital on his or her first day with the latest consumer technology in hand. In fact, over 98 percent of these millennials have smartphones buzzing away in their pockets during orientation and most likely spend nearly four hours of their day (nearly a sixth of their time on earth) on the Internet. Statistically, one quarter of millennials look at their smartphones over 100 times a day, three times the rate of Baby Boomers. Technology is ubiquitous in their lives.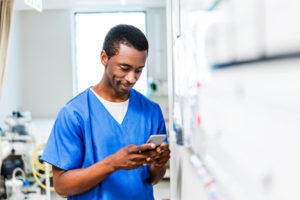 In many cases, hospital technology programs can influence where residents and young physicians seek employment. Technology has become a common theme in healthcare career marketing and strategic planning. For example, HCA's Graduate Medical Education (GME) website states: "We believe that patients deserve a hospital with top doctors using the latest tools, treatments and technology to provide the most modern care with the best possible results." Many hospitals know that technology is now a core pillar in any strategic plan, and they know what residents expect from technology as they come on board.
The Digital Native Revolution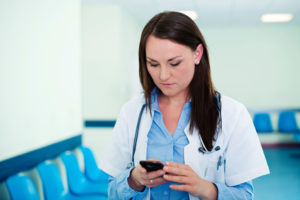 The landscape of Healthcare IT is constantly changing and may even be on the verge of significant disruption by consumer tech giants like Apple, Amazon, Google, and Facebook. Ten of the largest technology companies in the U.S. were involved in healthcare equity deals worth $2.7 billion in the first 11 months of 2017—an 875 percent increase from the $277 million worth of deals for all of 2012. These investments are not just for consumers, but providers as well. Ultimately, you can't significantly change one world without impacting the other. For caregivers that are on the forefront of tech, like many millennial residents, this can only be a good thing.
All of this is leading many prominent hospitals to launch technology programs for residents. One large California-based health system recently informed Spok that 80 percent of their residents come with clinical communication apps, including Spok Mobile®, loaded on their devices, as directed by onboarding materials in their orientation paperwork. Residents are often accepting of new technology (tech pioneers or early adopters), quick to learn, and have yet to build up muscle memory around pre-technology workflows, so they are ideal candidates for piloting and deploying new technology.
Industry leading healthcare IT teams are now creating programs that facilitate the use of technology to execute more efficient workflows. When a new resident is onboarded, the new IT is arming them with useful technology tools right off the bat—tools like mobile access to the EHR (Epic Haiku, Powerchart Touch, etc.), medical reference guides (Epocrates, Medscape, etc.), Computerized Patient Order Entry (PatientKeeper, etc.), clinical decision support (PEPID, MD Calc), vital sign monitoring (Airstrip) and secure messaging/alerting (Spok, etc.). A progressive IT team will often bundle these apps and deploy them via an enterprise app store using Enterprise Mobility Management (EMM). In addition to deploying apps, IT teams can also deploy mobile app training content via EMM to quickly get tech-savvy users up to speed.
There is no doubt that technology is changing our world and our approach to healthcare. In many cases, this change is for the better and will help heal and save lives in the future. Those who are residents today will practice medicine in a very different world later in their careers. A world that tech-savvy caregivers and IT teams, together, helped to create.