Blog
Most Heroes Don't Wear Capes: How 4 Hospitals Improve Patient Outcomes With Spok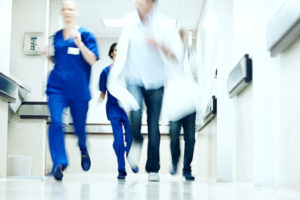 When my son Chase was young, he was really into superheroes: Superman and Batman & Robin in particular. If someone was saving the planet or Gotham while wearing a cape, he was into it.
Chase visited me at the hospital occasionally, and during one of these times he witnessed a code blue response. As the overhead page blared and nurses raced through the hallway, his eyes widened—clearly, something serious was happening in the cardiac intensive care unit, which he found very interesting, but confusing.
Later, I was able to explain: The nurses were running because a patient's heart had stopped beating. They had to get to him quickly to restart it. "So, he almost…died?" my son asked, stunned. Yes, I responded, but he didn't—we were able to save him.
That was all it took for Chase to understand that while they may be wearing scrubs with white coats trailing behind them instead of capes, doctors and nurses are, unequivocally, heroes. As a mom, it was nice that he now thought my job was pretty cool, and Chase is now on his own journey to become a doctor. As a nurse leader, it underscores my pride in the medical profession. We save lives so regularly that we almost become desensitized to what a gift it is to deliver the care that results in the best possible outcomes.
Physicians and nurses are the superheroes on the front lines of healthcare, but unlike Superman, they are only human. They can't run at the speed of light or use X-ray vision to detect anomalies. However, the right technology in their tool belts can enhance their abilities. Let's take a look at how four hospitals use the power of the clinical communication platform Spok Care Connect to improve patient outcomes:
Reduce length of stay and mortality rate:
University of Utah Health (UUH) started an initiative in 2014 to improve how they recognized and responded to signs of sepsis, a life-threatening complication of an infection that occurs when chemicals released into the bloodstream to fight the infection trigger inflammatory responses throughout the body. Sepsis response used to require a nurse to make a judgment call based on the patient's vital signs and manually page the rapid response team. With UUH's EHR system, Epic, and Spok, UUH automated the workflow. Epic clinical surveillance detects the change in patient vitals and triggers a modified early warning system (MEWS) score. Once validated by a nurse that yes, the vital signs are out of range and the MEWS score is accurate, Spok clinical alerting automatically delivers that alert to the sepsis rapid response team. With this new process, UUH reduced length of stay by 10 percent and mortality rate for patients with elevated MEWS scores (7-11) by 20 percent. Learn more about how they accomplished this by watching our recent webinar with UUH and Becker's Hospital Review.
Intervene before a code is required:
A code blue means a patient is in cardiopulmonary arrest, requiring a response team (sometimes called a 'code team') to rush to that patient's room and immediately begin resuscitative efforts. It's a dire emergency, and the goal for any hospital is to intervene with patients before they deteriorate to this critical point. This can be difficult because sometimes the signs of deterioration are subtle. Like UUH, Peninsula Regional Medical Center (PRMC) leveraged Spok Care Connect's integration with the EHR to send care teams automatic notification of patient vitals, so they can identify signs of potential patient deterioration and intervene early, without the need for code blues. Message tracking and escalations ensure these alerts are responded to quickly. By putting this information into the hands of clinicians in real time, PRMC reduced their code blue rate by 70 percent.
Accelerate Code STEMI response:
A code STEMI is a very serious type of heart attack that occurs when a major artery is fully blocked. They're notoriously deadly, and immediate intervention is required. The associated quality measure from The Joint Commission is a 'door-to-balloon time' (procedure to unblock the artery) of 90 minutes or less.  At Franciscan Health Michigan City, many staff members from several clinical departments need to be notified of code STEMIs. By automating the code alerting process with Spok emergency notification, Franciscan slashed their code STEMI response time by 1.5 minutes. That may seem small, but when every second without blood flow is causing greater, irreparable damage to the heart muscle, that is huge. Accordingly, they received an excellence award for their response rate just a few months after implementing Spok.
Avoid unnecessary patient safety events:
Union Hospital starts each day with a patient safety huddle—a best practice, these huddles allow them to discuss any issues that occurred the previous day. Through these huddles, staff identify incidents that were caused by incorrect or out-of-date contact information or staff schedules. At best, these incidents can be inconvenient—they waste time for both caregivers and patients. At worst, they can adversely impact the patient experience or even cause patient safety issues. Seconds count in healthcare, and staff had to have information they could trust. Union implemented Spok Care Connect, which included an enterprise staff directory and scheduling that could be updated and accessed by anyone in the organization in real time. As a result, Union cut communication breakdowns in half.
These are just four examples out of the many success stories in the Spok customer ROI library, and even that long list represents a mere fraction of the hospitals across the nation leveraging Spok to improve patient safety and outcomes and their organizations. Tens of thousands of clinicians across the country trust Spok to give them the information they need, when they need it, to make faster and more informed decisions.
What tools do you have in your "Batman belt" that enhance your care delivery powers?