Blog
Measuring Value: The Real ROI of Communication Technology
Hospitals and health systems typically spend between 2 and 4 percent of their total operating budget on health IT, which translates to hundreds of thousands up to millions of dollars. Plus, health IT spending is on the rise, with more than a quarter of hospitals seeing technology budget increases of more than 5 percent in 2017. The industry's shift from volume to value, plus the millions or even billions that hospitals have invested in EHR systems, has put a giant magnifying glass on hospitals' financial health. Return on investment (ROI) of health IT has become increasingly important.
However, healthcare isn't like other businesses where a simple formula can be used to calculate the value of an investment. In healthcare, ROI isn't solely about financial return, and it can be difficult to measure. While it does encompass cost savings, the ROI of health IT must also consider the value being delivered by the investment to care teams, and most importantly, patients.
Spok Proof Positive: Celebrating Customer Success
This week we're thrilled to celebrate the many improvements Spok customers have achieved through their investment in Spok Care Connect with Spok Proof Positive Week. Each day this week, we'll be sharing stories of the measurable ROI that Spok customers have realized on our Spok social channels. We'll highlight their accomplishments, including:
Enhanced patient safety
Increased patient satisfaction
Ensured regulatory compliance
Improved staff efficiency
Realized tangible cost savings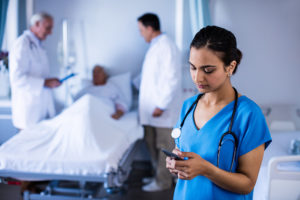 While the organizations we'll feature vary in many different ways, they've all used Spok technology to enable significant improvement over the status quo and advance their mission to provide the best patient care.
While cost savings are always present (one health system saved $1.5 million through increased staff efficiency!), many important improvements revolve around the patient: Activating critical codes faster, slashing door-to-balloon time, speeding response to nurse call requests, and discharging patients more quickly. We couldn't be prouder to have played a part in these patient-centric improvements our customers have accomplished: They've taken the time to measure the current state, implement the right technology, streamline the workflow, and realize and measure the results, all with the patient top of mind. Their investments in enabling technology have paid off for countless patients across the country.
Realize ROI at Your Organization
You don't have to wait for each new day of Spok Proof Positive Week to see all of our customers' success stories. Check out our brand new library of ROI stats, which is sortable by category, and each metric links to its respective case study for additional context. It's certainly an inspiring collection to us, and we hope it's motivating to you and your team as well.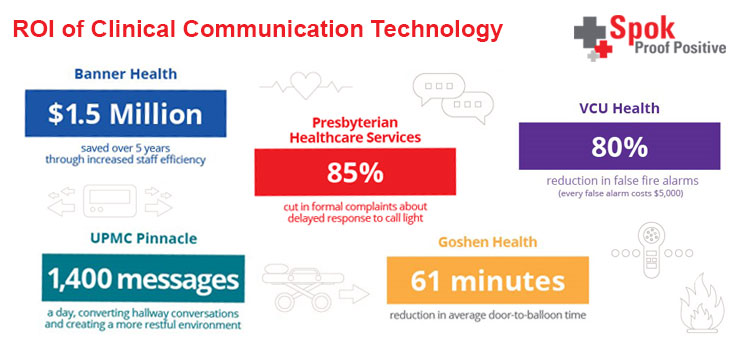 Measuring ROI can be a complex task for healthcare organizations as it involves many roles, departments, and environmental factors, but we're here to help: Our Professional Services Group has decades of experience with helping hospitals and health systems of all sizes determine which measures matter; assess the current state; implement the right technology, process, and culture; calculate return; and engage in ongoing optimization.
What ROI has your organization achieved with health IT (Spok or otherwise)? Which measures matter most to you, and how are you tracking progress toward better patient care? I'd love to hear from you.