Blog
Making Life Easier for Radiologists and Patients
Much of the buzz at RSNA last year centered on the latest and greatest imaging technology—innovations like live-streaming, 3-D capabilities, and pocket-sized systems grabbed the headlines. All of these strides are remarkable, yet they all focus on capturing images more effectively. But, even if the image is crystal clear, it doesn't help the patient get treatment or go home if it isn't immediately shared with the ordering physician. That's where Spok comes in.
Spok has been involved in critical communications in healthcare for a long time, and we have a solution that helps get test results securely from radiology or the laboratory out to the doctor who ordered them. That helps radiologists spend less time trying to reach doctors. In most hospitals today, that communication involves a lot of phone tag just trying to get the ordering physician on the phone so they can discuss the result. Our solution is all about understanding the physicians and how they prefer to be contacted, and then automating that process, whether it includes a phone call, a secure message, or a page, to get them connected to the radiologist.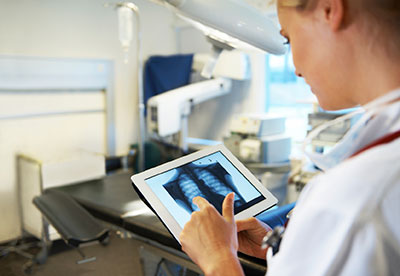 This also has a big impact on the patient—if that test result is critical, then there's a really important need to get that information back to the physician so they can prescribe a drug, order surgery, or whatever the best treatment option may be. Shortening the time to get those test results back can literally help save lives.
On the flip side, it can also help get that patient discharged. So, if you're looking at a crowded ED scenario where a patient is waiting for that test result, they can go home sooner once it's deemed okay. Often there is nothing more a patient wants than to just go home, and sometimes it's that one last test result holding them up.
This Spok solution isn't really limited technologically: We can deliver as much text as desired, video, photos, and images to devices very securely. However, oftentimes what we see and recommend in the workflow is a callback. Our customers have shared that there is really nothing that beats a great conversation. It's about using technology to automate that secure text message with results to allow the physician to easily dial back to the radiologist so they can talk it out at the end of the day.
How does your hospital manage communication of test results? Are your radiologists, physicians, and patients all satisfied with the status quo? If you can't confidently answer "yes" to all three groups, shoot me a note, and we'll demonstrate how our solution speeds treatment, reduces costs, and saves valuable time.
Watch Brian's interview on this topic with Health Data Management at RSNA 2015:
Hot Topics at RSNA 2015: Improving Communication of Test Results from Spok on Vimeo.