Blog
Make Your Healthcare IT Investment Pay Off | Blog
The million dollar question for many IT executives, especially within the complex healthcare IT environment, is "How am I going to make this large technology investment stick?" This big question revolves around end user adoption: IT executives want to drive adoption so that clinical users, and ultimately the patients, experience the benefits of the technology. What they do not want is to invest a lot of time and money in a technological solution that is greeted with apathy, or worse yet disdain, and is eventually declared a very expensive mistake.
It's a common challenge for IT leaders: A peer60 survey of over 300 C-level healthcare executives last year found that 31 percent listed meaningful ROI on IT purchases as a top challenge, outranked only by managing data (36 percent) and regulatory compliance (33 percent).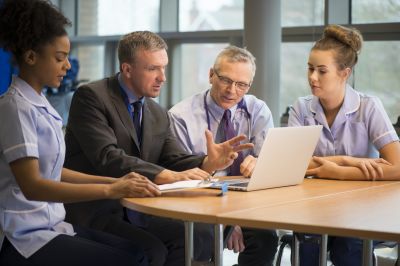 One overlooked and often-underutilized option is working with your technology provider's professional services group. These consultants are subject matter experts who help hospitals every day, from optimizing their technology to helping users learn how it enhances their workflows. Services teams not only fully understand the technology and its architecture, they also have valuable experience implementing the same solutions in similar healthcare environments. So they can provide valuable information on best practices and pitfalls. The resources and the services they provide are an excellent way to achieve a successful outcome for your project.
Unfortunately, it's not possible to purchase technology and roll it out with the expectation that your end users will just drop their existing tools and processes—however manual and inefficient they may be—and simply start using something new with no coaching. The role of a services project manager is not just to install a technology, it also includes educating, training, and working face-to-face with the physicians, nurses, administrators, and other staff who will need to understand and ultimately trust that the new solution will make their lives easier. Professional services can supplement the resources you need for these tasks, make suggestions based on years of experience, and work with you to keep your rollout plan on track.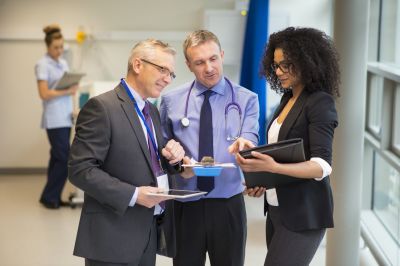 Whether your technology project is driven by user requests or business needs such as information security, your end users are the unknown variable in the equation. To reduce the risk of lackluster adoption, work with your technology provider to administer pre-implementation surveys―listen to what your users need, what problems they are trying to solve, what they expect, and figure out what training will be needed to set them up for success. Training is vital and is an ongoing process, not a point-in-time event. Think about your training team, their expertise and bandwidth. Do you want to boost your internal team with experts from your technology vendor for the initial rollout? What about ongoing training?
You should also consider finding a strong internal champion to help. People are much more apt to try a new technology if they know the project lead or someone on the rollout team. As we all know, people are resistant to change. But with the right training and a trusted colleague vouching for the benefits, they are more likely to reach that a-ha moment with the technology and ask "Why didn't we do it like this sooner?" Encourage them to pick it up, try it out, and give it a shot. One thing I always tell my coworkers is to be curious, and cultivating that curiosity in your end users will help you reap the rewards of your technology investment.
When you show your users the value, you'll be much more likely to have a successful project in the end.