Blog
The Joint Commission Recognizes the Value of Secure Text Messaging | Spok
Secure text messaging has become popular within organizations looking to prioritize security and improve communication workflows.  One recent estimate projected that 60 percent of hospitals will implement these solutions within the next year. From a workflow perspective, secure text messaging can streamline clinical conversations between care providers by providing enhanced security measures within the application that provide added comfort to individuals and facilities that have a need to exchange sensitive information while remaining mobile. The ability for care providers to text and/or approve an order without disrupting what they are already doing, for example, is a powerful way to deliver value. Physicians have recognized the need for secure mobile workflows for many years—with 87 percent of doctors using smartphones to support their clinical workflows.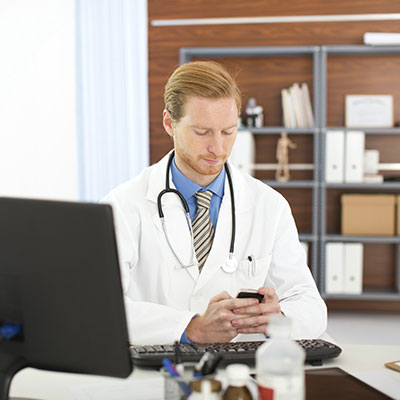 Among the many challenges hospitals face when rolling out secure text messaging is the task of creating sound acceptable use policies and adapting workflows to these policies. However, guidelines from governmental bodies can sometimes require interpretation in order to create consistent acceptable use hospital policies.
Many hospitals have had to limit what they will allow in mobile conversations due to these policy constraints. For example, many hospitals have implemented policies that prohibit physicians from texting orders. This is the result of a broad FAQ published by The Joint Commission in 2011 that stated: "It is not acceptable for physicians or licensed independent practitioners to text orders for patients to the hospital or other healthcare setting." Hospital policies preventing the texting of orders have included the use of secure text messaging because The Joint Commission had not recognized secure text messaging in the past.
However, that just changed.
Just last week, The Joint Commission recognized the difference between consumer text messaging and enterprise secure text messaging, and inherently recognized the value of the latter. In an update to the 2011 FAQ, The Joint Commission stated that: "Licensed independent practitioners or other practitioners in accordance with professional standards of practice, law and regulation, and policies and procedures may text orders as long as a secure text messaging platform is used and the required components of an order are included."
In the update, The Joint Commission details that orders can now be transmitted via text messaging, as long as the requirements for securing text messages are met. The message from the Joint Commission to healthcare organizations is clear secure text messaging solutions such as Spok Mobile® are necessary to protect your organization from practitioner and employees sharing sensitive information over unsecure text message platforms. Here's how Spok Mobile stacks up to the requirements outlined in The Joint Commission's update: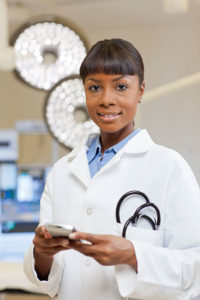 ✔ Secure sign-on process
✔ Encrypted messaging
✔ Delivery and read receipts
✔ Date and time stamp
✔ Customized message retention time frames
✔ Specified contact list for individuals authorized to receive and record orders
Now healthcare organizations can leverage their investments in secure text messaging solutions to further streamline clinical workflows. Hospitals can unlock tremendous value with secure texting solutions that offer workflow management (on-call and escalation capabilities) and integrate with clinical systems. A solution like Spok Mobile can enable a nurse to look up a physician who is on call for a specific service and request a refill on a medication. With integration to the electronic health record (EHR), the physician might reply back to the nurse and approve the order with just a few taps on a smartphone. The update from The Joint Commission can help shine a light on workflows like these and help hospitals fully enable the technology. While it is important to note that Computerized Physician Order Entry (CPOE) systems do offer safety and verification features that are not part of secure text messaging systems, the right integrations and checks and balances can hopefully help mitigate potential misidentification or workflow errors over the longer term.
The logical next step for healthcare organizations is to revise their messaging policies to allow texting of orders in accordance with their secure text messaging capabilities. The Joint Commission recommends that hospitals document the capabilities of their secure texting platform, conduct a risk assessment, revise their policies, train users on policy revisions, and begin monitoring orders sent via secure texting. If you need assistance pursuing any of these changes, Spok Consulting Services is here to help—drop us a note! There will be many steps in the journey to create safe, value-oriented solutions. In addition to the steps outlined by The Joint Commission, we can also help you develop an enterprise communication strategy for implementing an integrated platform to deliver secure text messaging, paging, directory services, on-call scheduling, clinical alerting, emergency notification, contact center services, and alarm monitoring. Together, these capabilities can streamline orders and keep care providers mobile—where they can best care for patients.