Blog
Is It Time for BYOD for Nurses?
Bring your own device (BYOD) programs are well established for physicians: Nearly 90 percent of doctors have the option to participate in BYOD programs at their organizations according to Spok's Fifth Annual Mobility Strategies in Healthcare Survey, yet only 51 percent of nurses do. It makes perfect sense that physicians led the surge in BYOD, given their autonomy and movement among departments and facilities. Is it now time for BYOD programs to fully encompass nurses? Nurses want to serve their patients in the best way possible and be able to reach doctors for faster care planning. Allowing nurses to bring their own devices may be an excellent option to facilitate that vital communication.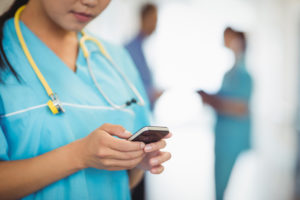 Typically, nurses utilize hospital-issued shared devices, but there has been a driving trend to create a more individualized experience. In my years as a nursing leader, nurses would prefer to use a device individual to them, not a generic one that may not best support their needs and workflows. The reality is that your nurses may already be using their personal device for work: A 2016 report, Point of Care Communications for Nursing, by Spyglass Consulting Group, surveyed 100 nurse leaders across the U.S. , and found that two-thirds of respondents often rely on their own mobile devices (i.e., smartphones and tablets), to eliminate communication bottlenecks, streamline productivity, and deliver improved patient care. This should be a strong indicator hospitals need to consider a formal BYOD program, strengthened by a written policy and mobile device management (MDM) tools to support HIPAA compliance.
BYOD can also offer high returns: Cost savings was the number one driver of BYOD programs, outranking even care team communication and workflow time savings, according to the Spok survey. There are so many more nurses than doctors, so supplying, maintaining, and regularly updating hospital-issued devices is a significant expense. The aforementioned Spyglass report found that one-third of providers have found or were in the process of finding "compelling ROI models to justify an investment in mobile communications" that connect not only physicians, but also nurses and other members of the care team. Besides the cost savings, ROI can also come in the forms of improved efficiency and patient safety.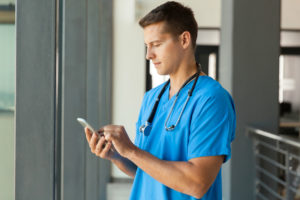 When I imagine both physicians and nurses on the same devices, I get excited about the potential for improved clinical communications. Reliance on one common device helps you with consistent communication, which is what we all want our care teams to have. It starts with bringing nurses to the table and involving them in your organization's mobility strategy. There was actually one promising indicator from our Mobility Strategies in Healthcare Survey that this is already happening: There was a 69 percent increase from 2014 to 2016 in the number of respondents who said that nurses are or will be involved in developing their organization's mobility strategy.
Let me know what mobility strategy you are using in your organization. Please answer the poll below, and/or drop me a note or send me a tweet—I'd love to hear your challenges, concerns, and have a conversation about the best approach for your organization.