Blog
How to Deliver On-Time, On-Budget, and On-Value Health IT Projects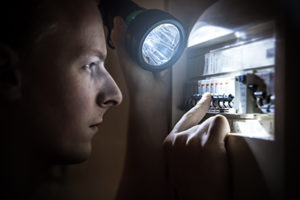 A few weeks ago, an electrical outage occurred at my home. The lights, appliances, and technologies all went dark simultaneously in a few rooms. "No worries," I told my wife, "Let me go flip the breaker." I opened the circuit breaker box and flipped the switch a few times…but nothing happened.
Now, I could have taken additional steps from here. I could have stood there and flipped that switch repeatedly. I could have tried to troubleshoot the issue by hopping on YouTube and trying to learn a new trade in a matter of hours. But I didn't do any of these things, for a couple of reasons: 1) I did not have the knowledge or expertise, and 2) I didn't have the right tools.
Instead, I waved the white flag and called an electrician—a trained expert with the experience, knowledge, and tools to get the job done right. Yes, it cost me extra money, but it saved me valuable time and also ensured the project would be done well and prevent potentially serious consequences for my house and family down the road.
Getting Started With Enterprise Projects
My circuit breaker experience isn't so different from a hospital or hospital system completing a business case and preparing to start a new project. After identifying the major objective to be solved, key stakeholders, and organizing the optimal governance structure, the next step is to start aligning budget and resources. It's a good idea to ask "What do we have the knowledge and expertise to do?" and "When do we need to call in the experts?"
When hospitals implement large enterprise software, such as an EHR or a clinical communication system, it often takes both clinical and technical resources from within the hospital system to collaborate with vendor resources. Think of this partnership as somewhat like calling an electrician who has the right expertise, knowledge, and tools to help. If the right vendor is engaged, it should feel like hiring a trusted electrician who is willing to be mindful of your home and your family's needs, and can show you how the job gets done right.
What Does It Take to Be Successful?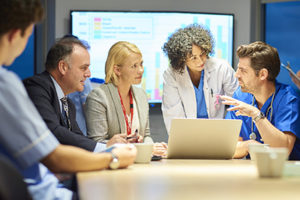 More than half of IT projects fail, and healthcare IT projects are notoriously complex. These projects require healthcare organizations and technology vendors working together to navigate a complex, changing set of needs, requirements, and regulations. When considering these complexities and associated challenges, it's not an easy task to achieve real world results and positive progress. It takes a deep understanding of the healthcare industry, technology, clinical, workflows, government programs, effective project methodology, and the individual health system to create strategies, plans and execution methodologies for success.
Spok Professional Services, a team of project managers, solution architects, solution consultants, implementation consultants, and trainers, will be there every step of the way throughout a project, making sure they stay on time and on budget to deliver the maximum value. My team has several people who have clinical credentials and experience, as well as some who were previously employed with Spok customer hospitals. With an average of more than 13 years of experience in healthcare IT, and over 10 years of experience with Spok solutions, this team has the experience, knowledge, and tools that are needed to help hospitals achieve a successful outcome.
We can help with software design, project management, workflow consulting, solution implementation, and user adoption. Together, we will align business and IT requirements, design and build technology solutions and business plans, deploy the solution to end users, and optimize VOI/ROI. With certifications ranging from PMP to ITIL, the team has developed advanced implementation methodologies and tools, including project plans, readiness guides, technology workshops, best practices guides, workflow diagrams, training and user-acceptance testing (UAT) plans, organizational change management and communication plans, policies, and guiding principles.
Results That Speak for Themselves
The Spok Professional Services team has implemented clinical communication and collaboration solutions at more than 1,900 hospitals across the U.S., including all 30 Adult and Children's hospitals named to 2017-18 'Best Hospitals' honor rolls by U.S. News & World Report. We've helped customers achieve real-world results: Working with Spok consulting services, Sentara Healthcare saw a 98 percent decrease in pages sent to invalid devices. Union Hospital reduced communication breakdowns by 50 percent in partnership with the Spok project team. With our guidance, Maimonides Medical Center was able to take on the role of training and support for users. We want to use our expertise to help you achieve similar results at your organization.
Take the Next Step: Start Your Health IT Project Today
From the earliest stages of solution planning, through go-live and ongoing optimization, our goal is to go above and beyond to make sure your communication solution helps you overcome your communication challenges and improve patient care. If you'd like to explore service options, please reach out to a sales representative to learn more, or check out the Professional Services brochure or infographic.
Give us a call and we will make sure the job gets done right. We'll make sure that you and your healthcare family—your hospital staff and your patients—are taken care of.