Blog
Helping Hospitals Get Started on a Unified Communications Strategy
As a senior business solutions advisor with Spok, I enjoy spending my days in discussions with healthcare leaders who are trying to help clinicians improve care for patients. Each day after I get my required cup of coffee, I have the unique opportunity to speak with these professionals from around the world and help them evaluate technology solutions to develop their unified communications strategy.
Unified communications are top of mind for good reason: Communication failures were linked to over 1,700 deaths and $1.7 billion in malpractice costs according to a recent study by CRICO Strategies, a research and analysis offshoot of the company that insures Harvard-affiliated hospitals. With various islands of information within each department, hospital and health system leaders often ask "Where do we start?"
Each hospital is unique, so my initial response is to ask a lot of questions to understand their hospital better and to learn how they're communicating today. We call these discussions discovery calls, and I really enjoy them because every situation is different and each role brings a different perspective. But, what generally results from these discussions is that the client needs a true enterprise solution, as opposed to piecing together a solution with disparate, non-integrated vendors whose systems will only cover a portion of the full picture. The key need is to improve communication-driven workflows throughout the hospital via a single platform. Here are just a few examples of workflows that can be improved with unified communications:
Code Calls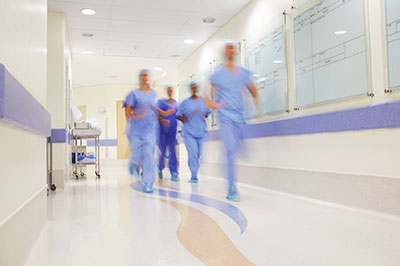 Many healthcare leaders I speak with tell me their hospitals have manual, outdated code call procedures. This can be frightening to think about, especially if there's a need to launch multiple codes simultaneously. Many hospitals use operator assistance for dialing, paging, and messaging when executing a code. These operators access multiple systems to look up on-call schedules, send out pages/messages, then just hope the right caregivers get the message and respond quickly.
This is a great place to start utilizing technology solutions as one element of your unified communications strategy. Call center attendant console technology, web-based on-call scheduling, and emergency notification solutions on the same platform can save an operator precious time, which in turn can help improve patient safety when seconds count. Simultaneous group messaging to a myriad of devices with the click of the mouse, automated escalations, and an audit trail of acceptance/rejection/escalation for critical messages gets resources aligned faster and helps eliminate manual, time-consuming processes.
Patient Alerts
Did you know that nurses can walk up to five miles per shift? A lot of these steps are due to nurses handling all of the "beeps and buzzes"—typically nurse call and patient monitoring system alerts. Connecting these alerts directly to the assigned caregiver's mobile device can reduce inefficiency. Clinical alerting solutions give you the ability to send messages to the right people based on rules set by the hospital, so a request for ice chips can be delegated to a technician and an alert signaling a dangerous drop in vitals gets the fast clinician response the patient needs. Ultimately, being able to reach a mobile team member within seconds of a critical alert can increase both patient safety and provider satisfaction.
Test Results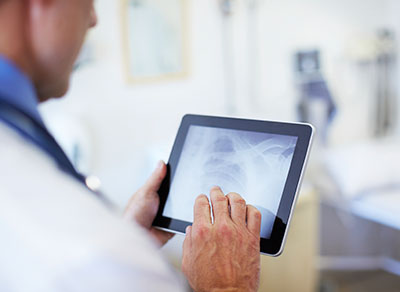 Several studies have shown that doctors delay or fail to notify patients of as many as 36 percent of abnormal test results, primarily because they lack a reliable tracking and communications system to follow up on the hundreds of results a busy physician can receive in a week. With automated test results software that integrates with the electronic medical record (EMR), sharing radiology and lab results is greatly improved. Physicians can forget checking the EMR multiple times for results and spend that precious time caring for patients. This type of technology can send results directly to the ordering physician's smartphone and add them to the EMR as well. When the test results are accepted by the doctor, this is tracked in the EMR. It also allows for the ordering physician and radiologist or lab technician to more easily connect via secure text messaging that includes call-back features to avoid losing precious time playing phone tag.
Linking emergency notifications, patient alerts, and test results to a strategic secure mobile messaging solution all on the same platform can enhance your unified communications strategy. It helps prevent communication delays and failures that could result in patient harm. Elevating patient safety and care quality is always a good investment, and improving communications can have a tremendous impact. I personally feel much better at the end of the day when I have been able to help a hospital find ways to do exactly that. Now if you'll excuse me, I could use a little more coffee before I start my next round of conversations!