Blog
Helping Clinicians Connect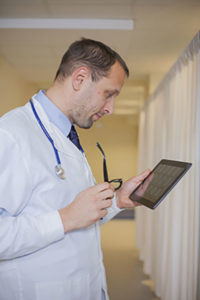 Today we live in a very mobile world. In fact, nearly two-thirds of adults are smartphone owners. Clinicians are even more apt to be connected to a mobile device, with nearly 70 percent using smartphones on the job. They're also probably carrying a pager and maybe other devices as well, such as tablets or wireless phones. And they're likely to have a desk phone and many emails to respond to on a daily basis to boot.
With all of these methods to reach clinicians, it can be problematic to select the right one to quickly contact them when they're needed. According to the 2014 Spyglass Consulting Group study on point of care communications, 61 percent of physicians express concerns about having access to colleagues and specialists, and 53 percent of nurses cite difficulties determining which physician is available.
A scenario like this isn't uncommon at hospitals across the country:
A nurse needs to confirm with a physician that it is OK to increase the dosage of a patient's medication.
The nurse calls the operator and asks to be connected with the physician.
The operator sees the physician can be contacted through a variety of devices.
The operator starts going down the list to contact the physician.
After several attempts to reach the physician, the operator sees the note for escalation in the operator console and repeats the process all over again for the escalation contact.
There's clearly a need for clinicians to be able to control how they're contacted, and this is why we built one of our newest solutions: The Spok Device Preference Engine (DPE). It empowers clinicians to control how and when they receive messages based on their communication preferences and escalation protocols. It also frees up the operator from spending so much time trying to track clinicians down. Everyone has more time to focus on what matters most—caring for patients.
DPE lets clinicians set up the preferred communication process for normal and urgent messages. Once this has been established, the entire process is automated after the initial message has been sent. There is no manual work required of the operator, department administrator, or whoever may be trying to reach a clinician quickly.
DPE integrates into other solutions in the Spok suite—operator console, web directory, and secure texting—which gives the ability to provision users and directory entries on one system, and stores full messaging and escalation history in the operator console database.
With the diversity of devices clinicians are carrying today, advanced technology like DPE is necessary to help manage communication preferences. Clinicians only needs to set their preferences once, and they'll always be followed. Alternatively, they can always update their preferences should their responsibilities change. With communication preferences in play, clinicians are able to reach their colleagues quickly and better coordinate care for patients.